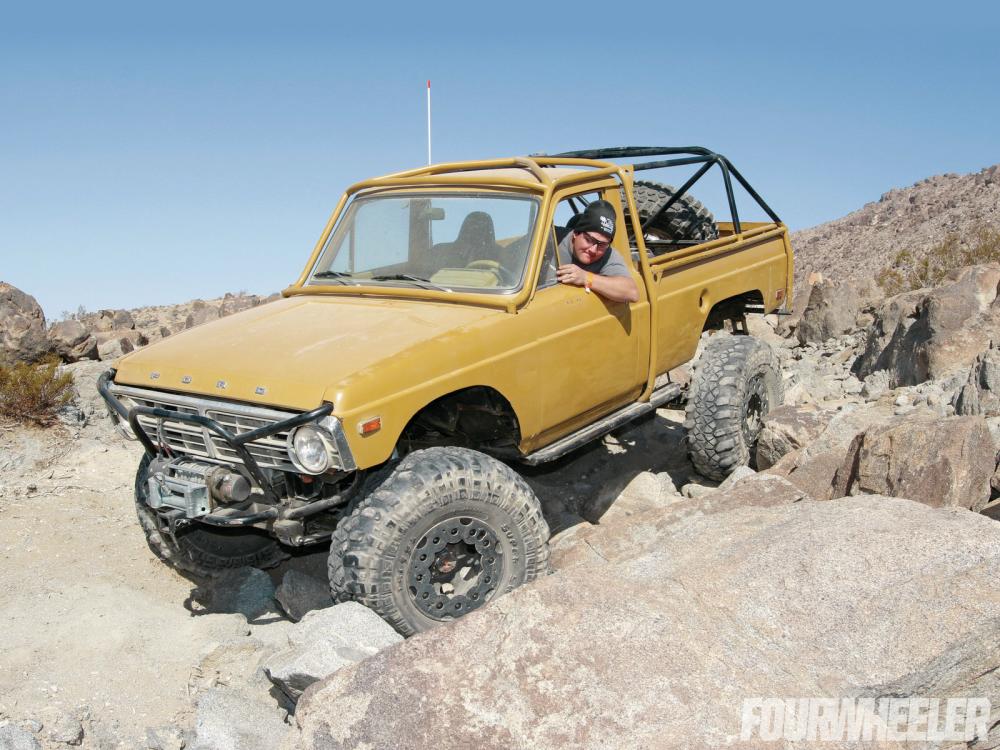 In the early 1970's the Ford Courier name was applied to the Mazda B-Series, a compact pickup manufactured by Mazda. It had greater fuel economy than the full-size pickups of the time. The Courier was manufactured by Toyo Kogyo (Mazda) and imported and sold by Ford Motor Company as a response to the unforeseen popularity of the small Toyota and Nissan/Datsun pickups.
Like the other mini-pickups of the time, it featured a sub-2-liter four-cylinder engine, a four-speed manual transmission, rear-wheel drive, an impressive load capability of 1,400 lb considering its size, and a fairly small price tag compared to full-size pickups of the time. To circumvent the 25% "chicken tax" on light trucks, Couriers (as with Chevrolet LUVs) were imported in "cab chassis" configurations, which included the entire light truck – less the cargo box or truck bed – and were only subject to a 4% tariff. Subsequently, a truck bed would be attached to the chassis and the vehicle could be sold as a light truck.
The body styling was effectively that of the related Mazda B-series; however, its front styling was unique in that the grille was designed to emulate the larger Ford F-series, and large single headlights instead of the B-series' smaller twin units.
In 1973, the Courier came standard with a 1.8-liter overhead-cam engine, which produced 74 hp at 5,070 rpm, and 92 lb-ft at 3,500 rpm. A four-speed manual transmission was standard, and a three-speed automatic was optional. 4-wheel drive was not an option. Therefore, you may occasionally find some of these trucks in the custom mini truck crowds, but you don't expect to see them in the off-road community.
That's what makes this 1973 feature vehicle so great. When Earl Kann found it, he saw the opportunity to build an off-road rig unlike any others he'd see on the trail.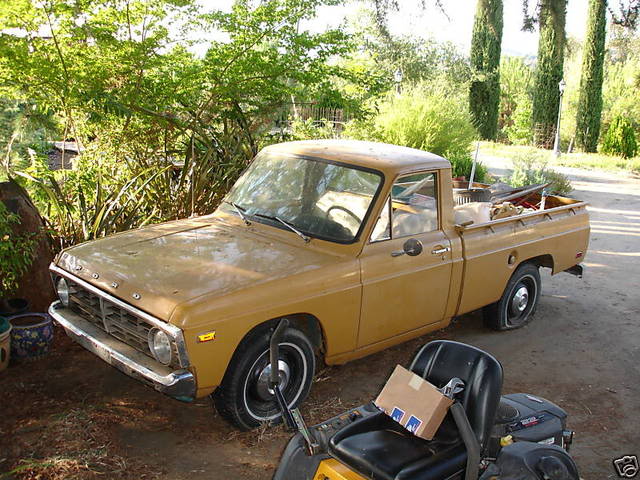 Instead of trying to convert the Courier's 2WD frame to 4WD, Earl chose instead to mount the Courier body on to a 1982/83 Toyota Frame with a Toyota drivetrain. I know, it's not a Ford, but the Courier was already nothing more than a Japanese truck with a Ford name attached to it. Now it's just a different Japanese truck with a Ford name attached to it.
The front suspension consists of a Toyota axle with 5.29 gears, Longfield 30-spline shafts, ARB air locker, axle truss, and Sky offroad widening kit. It rides on All Pro 4-inch lift leaf springs with shock hoops and 12-inch Bilstein shocks.
Braking is handled by IFS calipers and FJ rotors.
Steering is made up of a Marlin Crawler high steer kit with an IFS steering box that has been drilled and tapped for a Trail Gear hydro assist ram.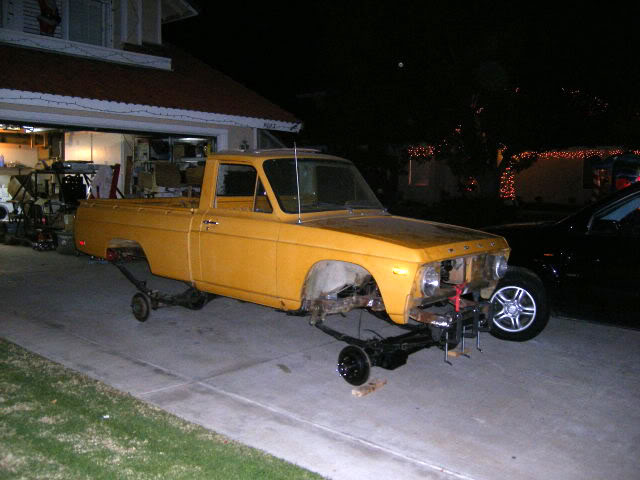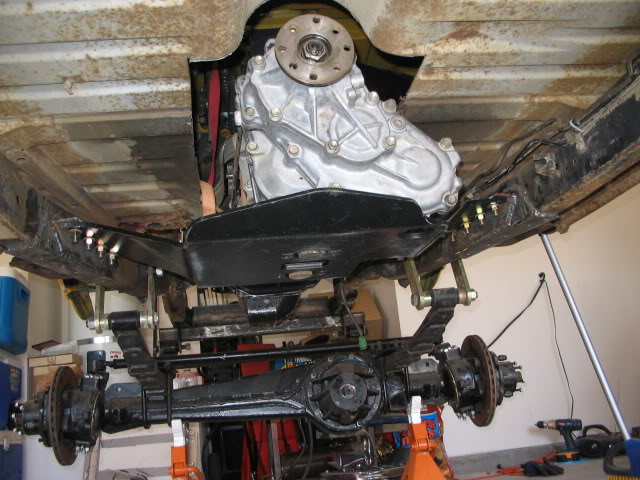 The rear is also a Toyota axle from a V6 Toyota with 5.29 gears and welded spider gears. The rear rides on 5-inch lift Marlin Crawler leaf springs with Bilstein 14-inch shocks. The rear brakes were upgraded with a Chevy Monte Carlo disc brake swap.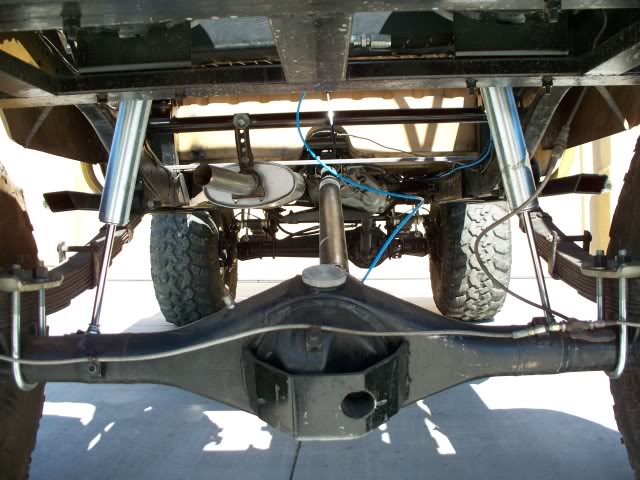 The engine is a Toyota 22RE that was stripped down and swapped to a carburetor manifold to run on propane.
The engine is mounted to a Marlin L52HD with billet short throw shifter, followed by dual transfer cases with a Marlin MC07 adapter. The rear case has a Trail Gear 4.7 gear set and twin stick (not shown in pictures).
The engine uses a Headman header, and is cooled by a Summit aluminum radiator.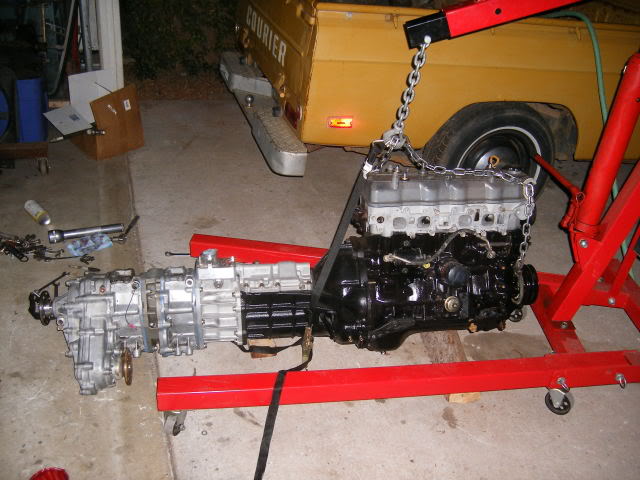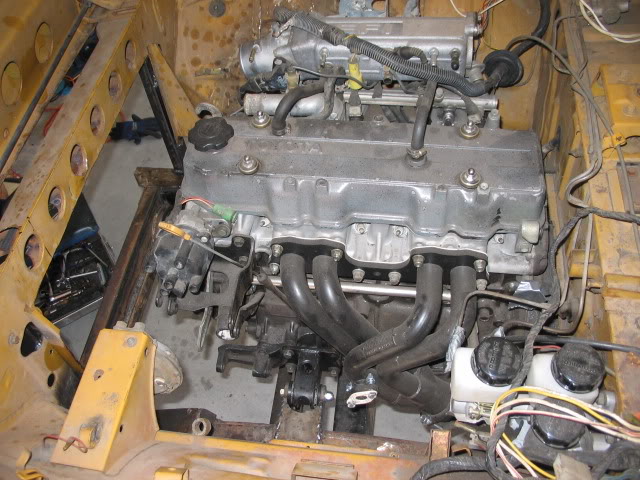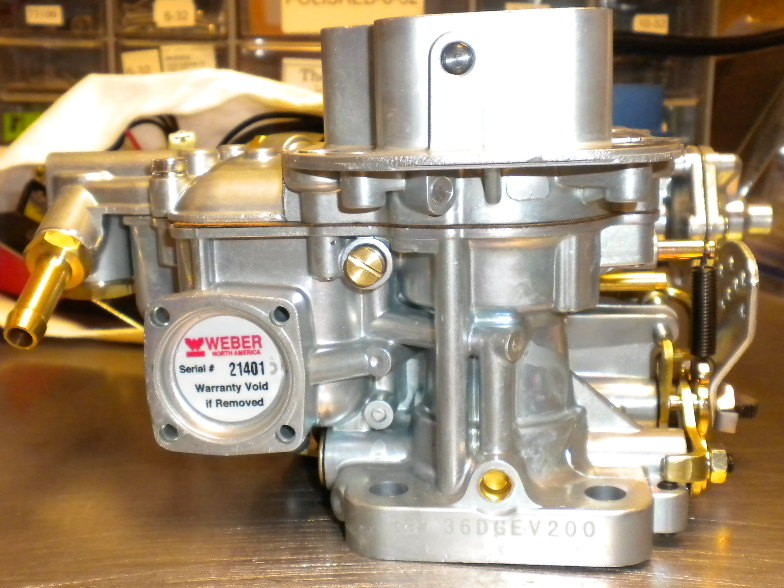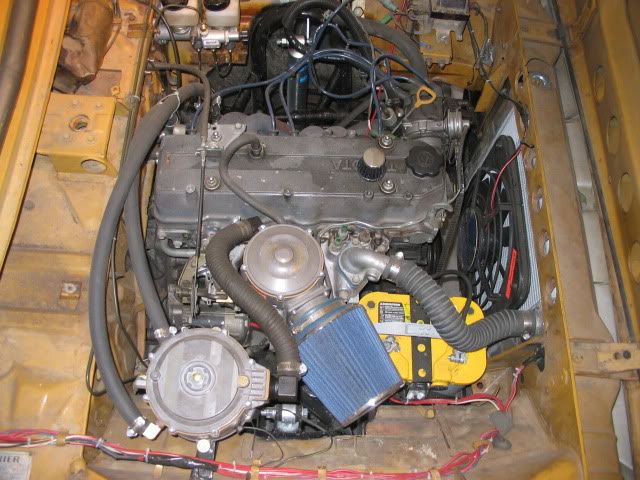 Dual propane tanks are mounted in the bed for the GotPropane system.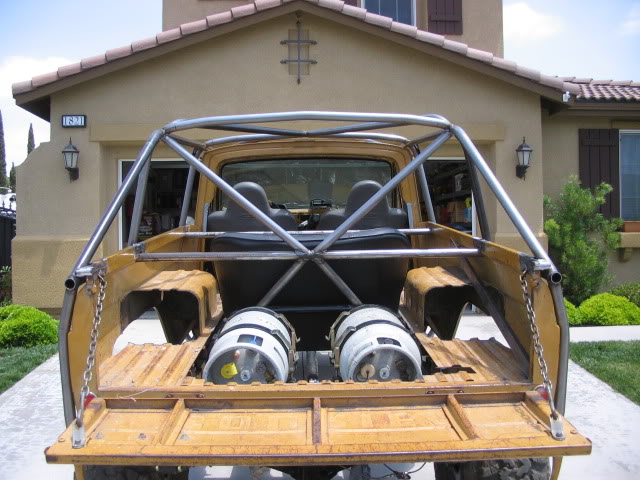 The interior has PRP +2″ daily driver seats. The back of the cab was cut out for more leg room. A 36″ PRP bench seat is mounted in the bed, and the bed floor has been cut out to lower the seat and maintain head room for the back seat passengers. The seats use DJ Safety harnesses with 2″ padded shoulders and 3″ lap belts + sub. The vehicle and occupants are protected by an exterior roll cage.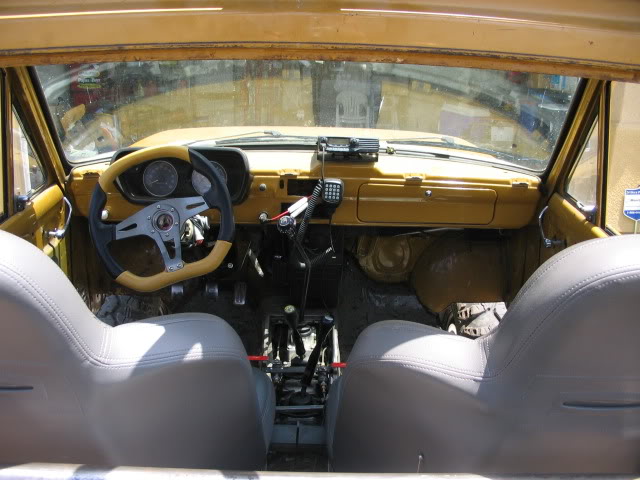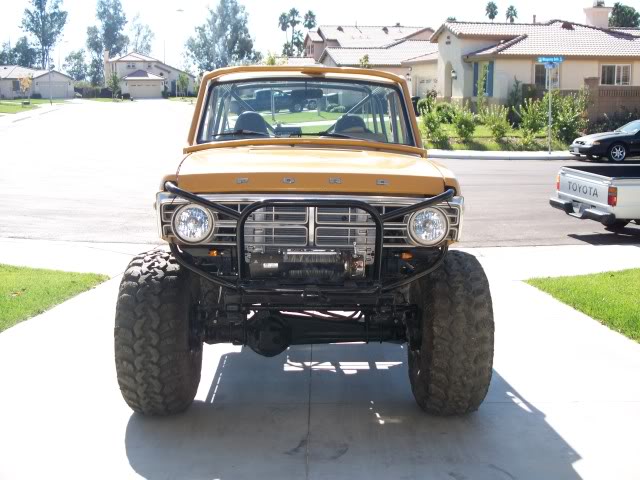 A warn M8000 winch was mounted on the front, and the truck rides on 36×13.50×15 IROKS on black steel wheels.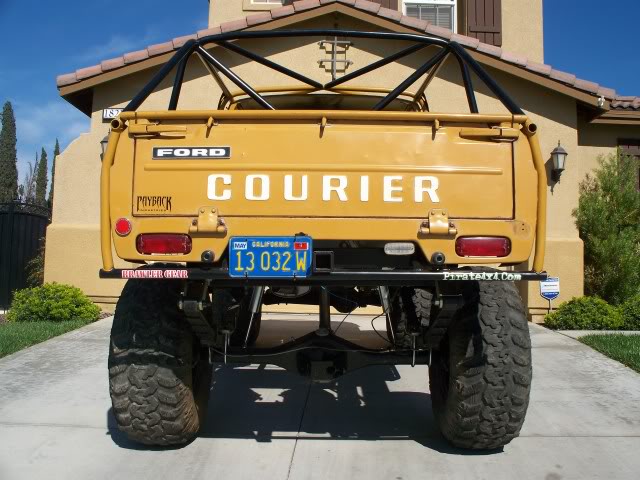 The truck was sold to Nicholas McBride before is was completed. Nicholas finished the truck which now rides on 16.5×8.25 Re-centered HMMWV six-lug double beadlock w/rock ring wheels, and 38.5×14.50-16.5 LT Interco Super Swamper TSL/SX tires.
Once Nicholas started hitting the trails, the truck was spotted by Four Wheeler Magazine editor Ken Brubaker, who later wrote a feature article on it.
We'd love to see one of these with a Ford drivetrain!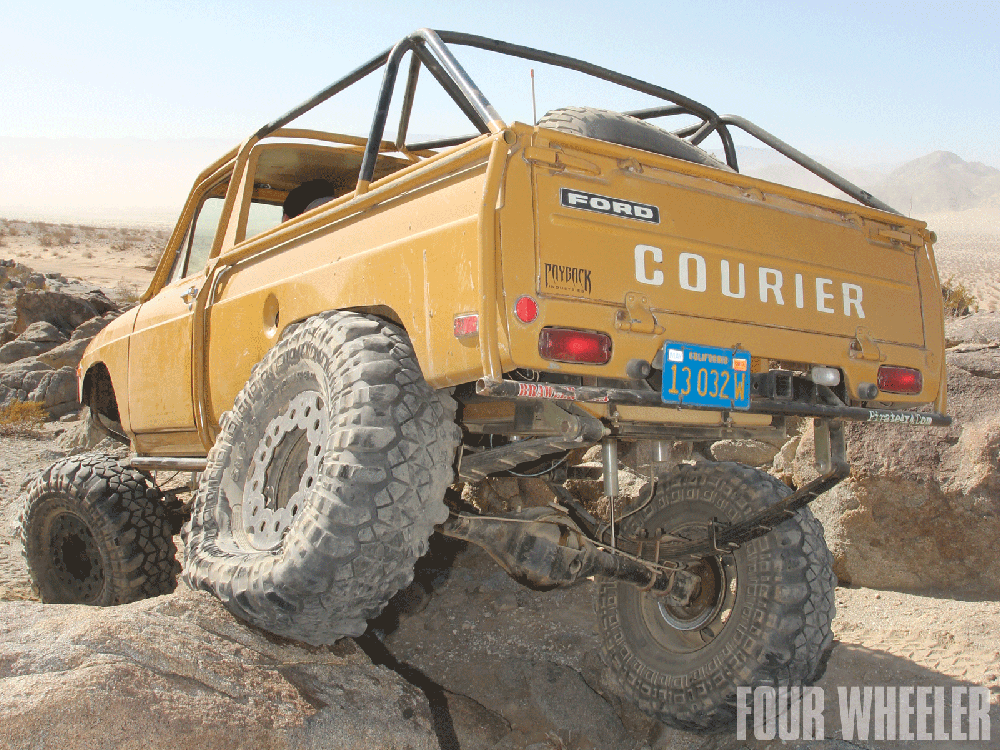 Links:
More Photos:
Click the photos to enlarge – click the arrows to load more
Tags: 1973 Ford Courier 4x4