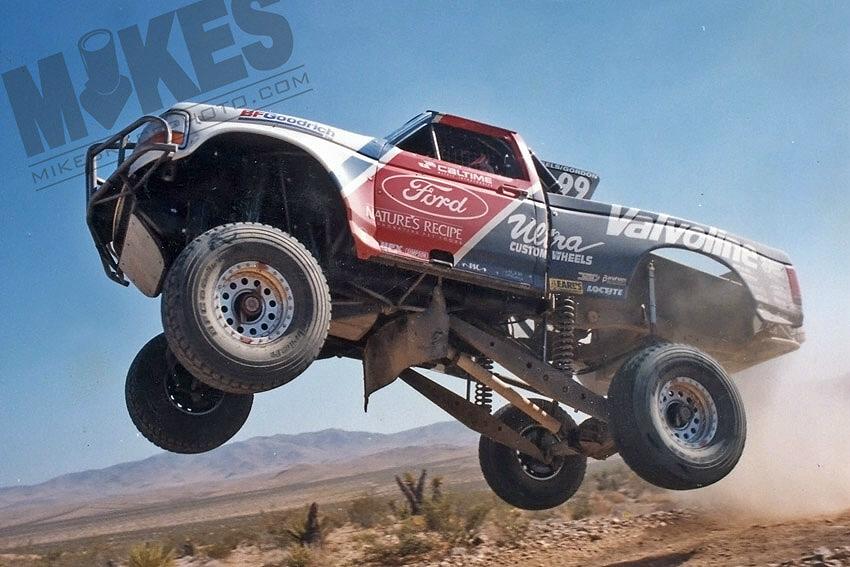 This Ford F-150 Class 8 race truck was originally raced by Frank "Scoop" Vessels and Robby Gordon in the 1990's.
Mike Coleman is a desert racer, SCORE fan, and the current owner of this truck. When Coleman was younger, he remembered watching a young Robby Gordon fly across the Baja terrain in the truck, which made a lasting impression on him, and ignited his passion for the sport.
In 2014, Coleman was fortunate enough to locate and purchase the truck.
According to Coleman, the truck was originally built by Kevin Bunderson for Dave Shopp. Dave Shopp sold the truck to Frank Vessels before the truck was completed. Frank finished the truck (sometime around 1990), painted it black, and raced it in Class 8 for a couple of years.
At some point (1992/1993) Robby Gordon partnered up with Frank Vessels to race the truck, and they changed the colors to red / white / blue for their major sponsor Valvoline.
Robby eventually bought the truck from Frank, changed the rear suspension from elliptical springs to coil-overs, and raced it in the Trophy Truck Class.
The next owner was Marty Coyne, and he raced it for some time in the late 1990's. From there, there's a gap in the history, but at some point, Jason Yeoman bought it from Marty.
Jason Yeoman past away in the early part of 2014, and Mike Coleman (Henderson, NV) purchased the truck from Yeoman's mother.
As for the trucks condition, Mike said that it hadn't been taken care of for at least the previous 7 years, and concluded that the truck must have sat outside the entire time. The motor had been in a machine shop during that entire 7 years. Parts of the truck were missing, and all the parts that were on the truck were worn our, bent, or broken.
He also discovered the truck had been originally given the name Rosanne. Some speculate because it was big and loud.
This is how the truck looks after the restoration: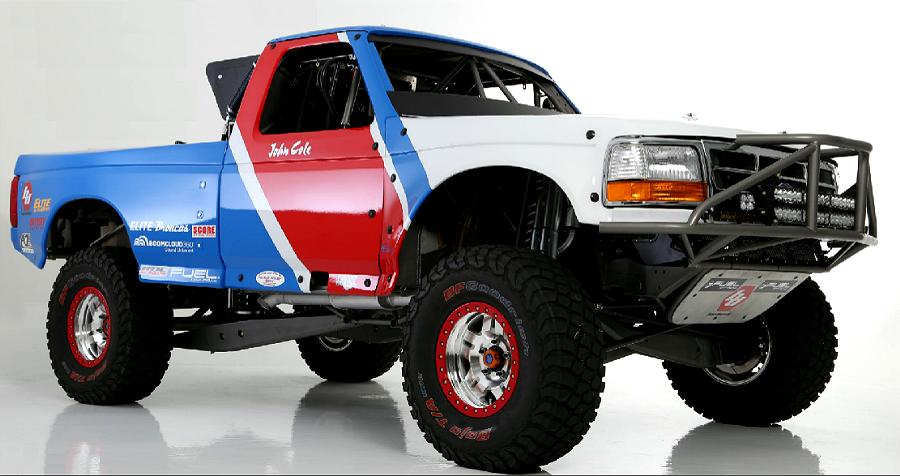 But this is how it started out: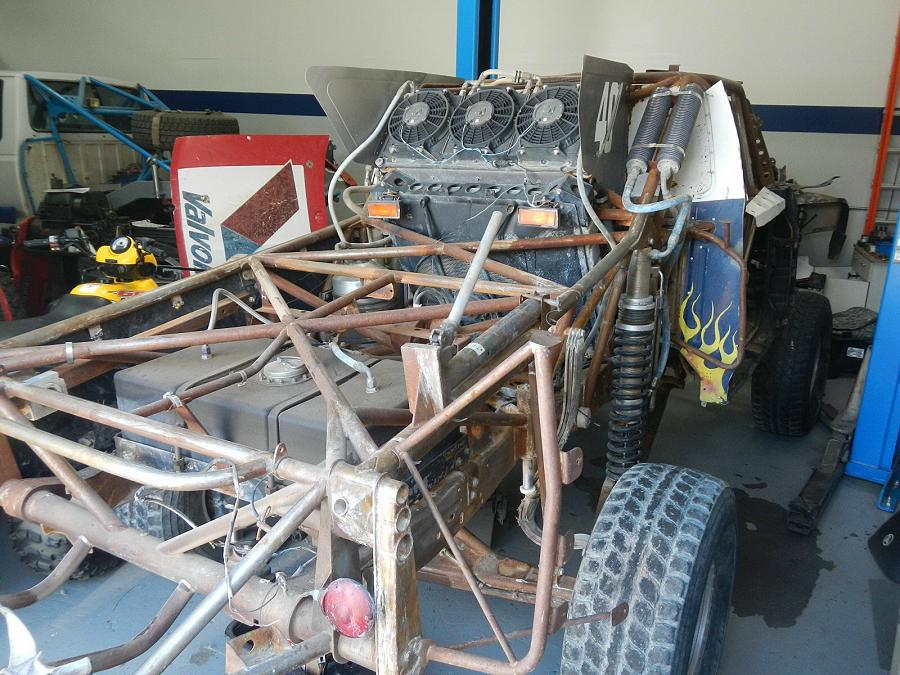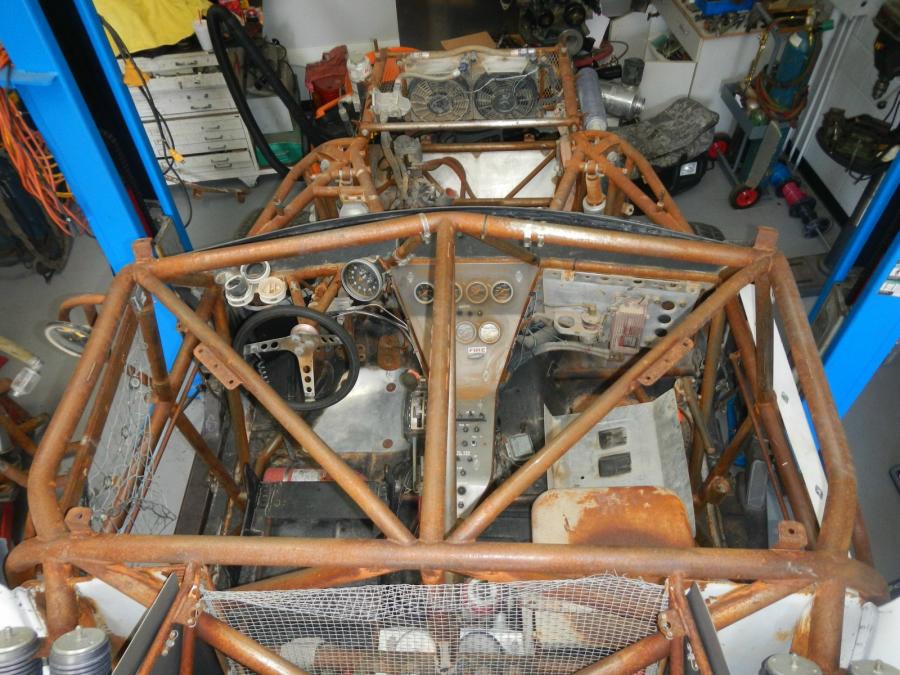 Before any work could be done, the truck was disassembled and sent out to Powder 1 in El Cajon for sandblasting. Once it was cleaned up, the entire cage/frame was covered in 'Steel-It' protective coating.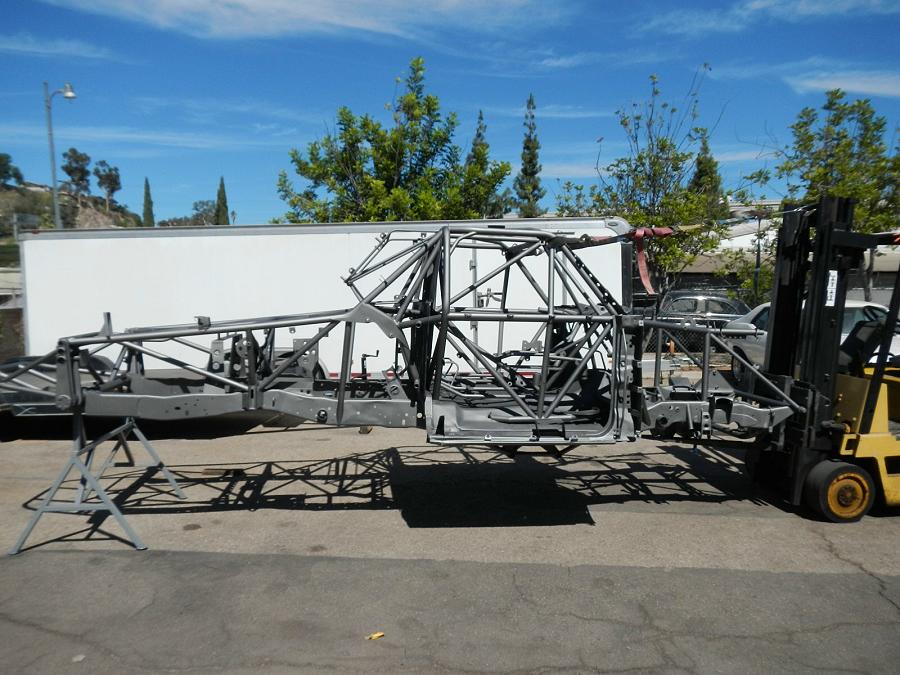 Viktor Doktor, a friend of Coleman, assisted with fabrication, as well as Tim Lawrence at TLR Performance, and John Cole at Elite Performance/Elite Broncos. The upgrades included new front and rear bumpers that were added to the original chassis. The front suspension was upgraded with new hand-made front spindles and custom I-beams. At the rear, the four-link suspension with trailing arm was retained, and new Fox 4.0 bypass shocks and Fox 2.5-inch coil-overs were used to smooth out the terrain.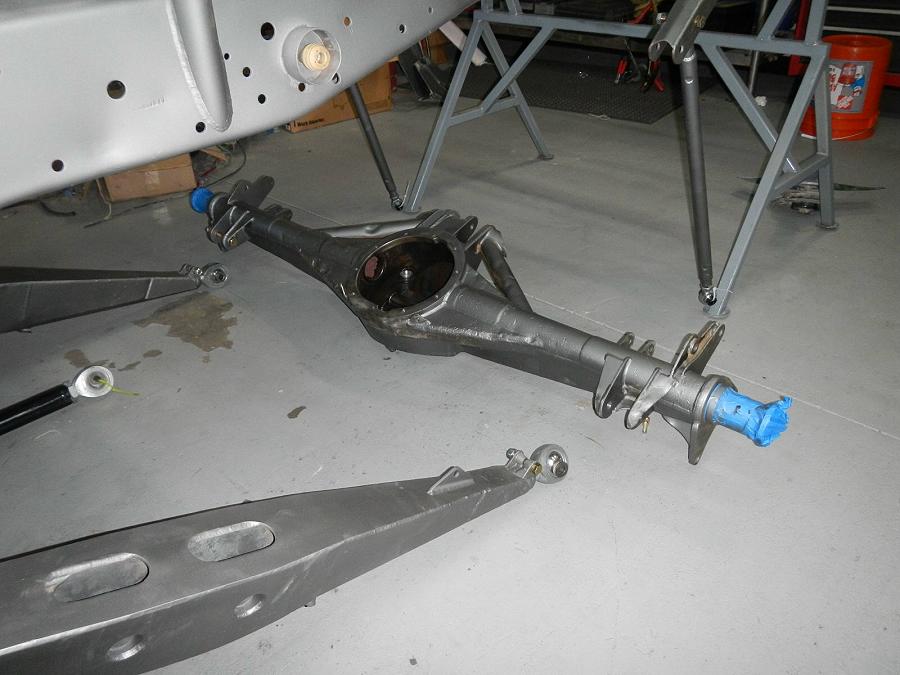 Roseanne rolls on a set of 17×9-inch Fuel bead-lock wheels mounted to BFGoodrich 37-inch Baja T/A KR2 tires. A set of 14-inch diameter, CNC front and rear disc brakes were also added to bring the truck to a quick halt.
The body was brought back to its Vessels/Gordon racing days, with the same red, white, and blue paint scheme it had at that time. Sadly, the original steel cab is gone. It was cut off at some point after Robby Gordon had it. Coleman had Body by Braun in San Diego, California smooth out new fiberglass panels from Auto Fab and applied the paint to bring the truck back the way most people remembered seeing it. Coleman also upgraded any of the truck's original factory lighting with new Baja Designs LED driving lights, and LED bulb replacements for the headlights and taillights.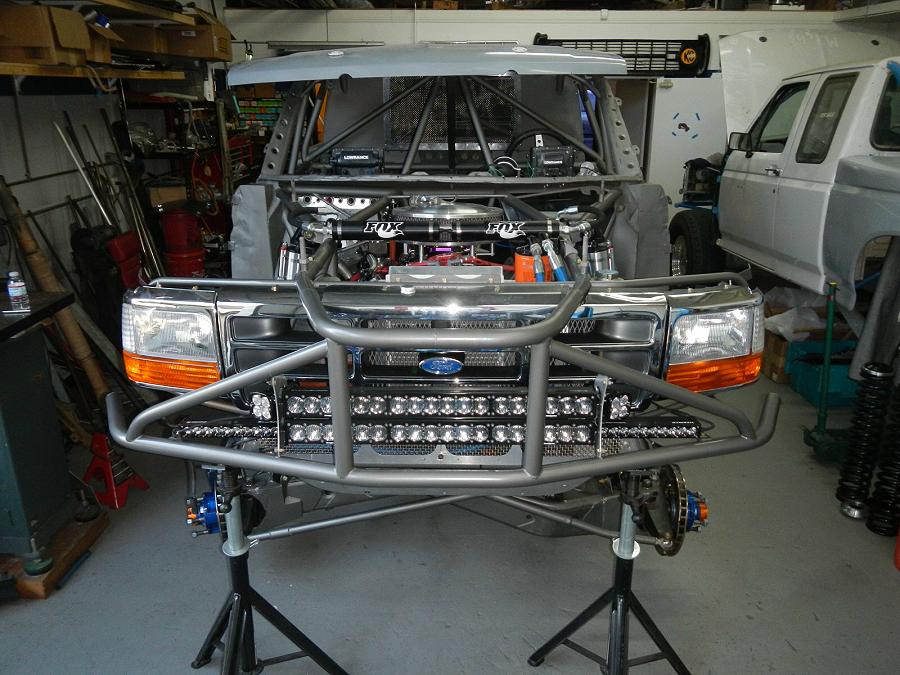 The truck's interior was updated with new aluminum paneling crafted by Tim Everts. A pair of Corbeau racing seats with Mastercraft Safety harnesses were also added while a PCI Race Radio system was installed for constant communication between them and their crew.
Under the hood, Coleman dropped a 580 cubic inch Ford Big Block that was built by Greg Grosset at Total Performance in Santee, California. The engine is balanced, blueprinted and makes 550 horsepower and 550 lbs.-ft. of torque. The headers were fabricated by Lawrence at TLR Performance and route the exhaust gasses out through a set of Magnaflow race mufflers. The powerful engine uses a Reid TH400 automatic transmission with an Inland Empire Driveline driveshaft that sends the power to a Ford 9-inch rear, outfitted with 4:30 ring and pinion gears and 46-spline axles.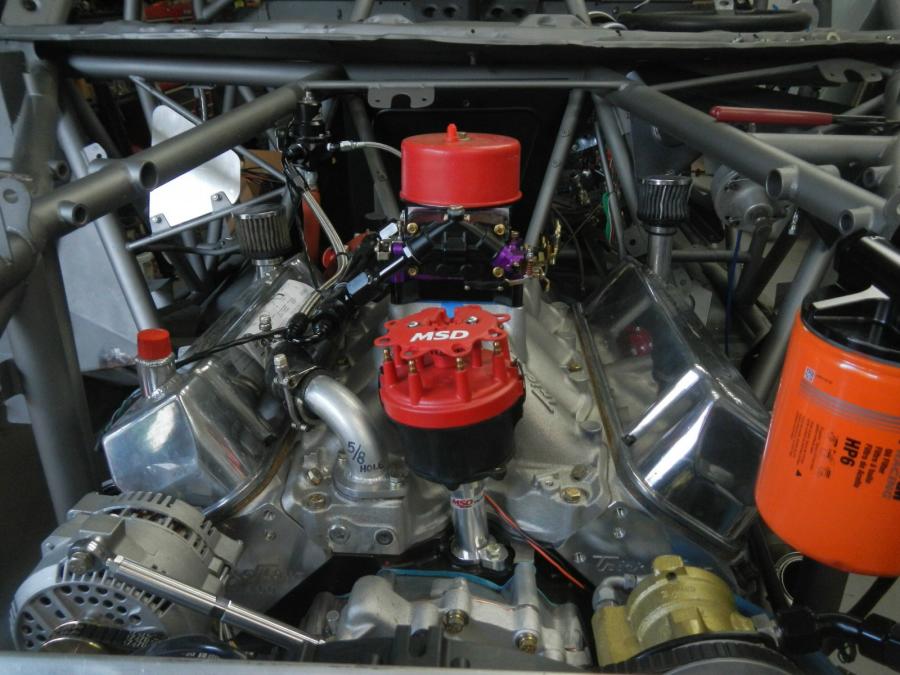 Since completing the truck, Coleman has entered it in to some NORRA (National Off Road Racing Association) races, and returned this old girl back to her glory.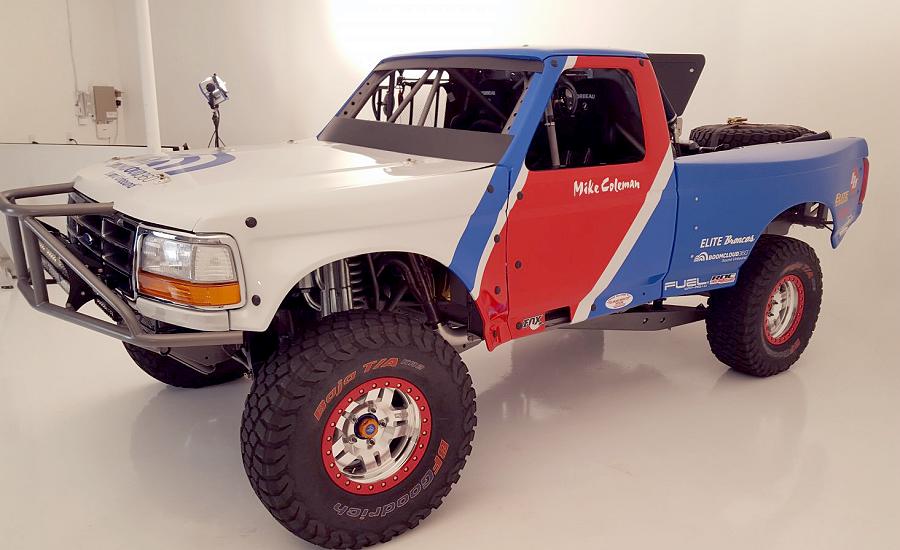 Nice job Mike!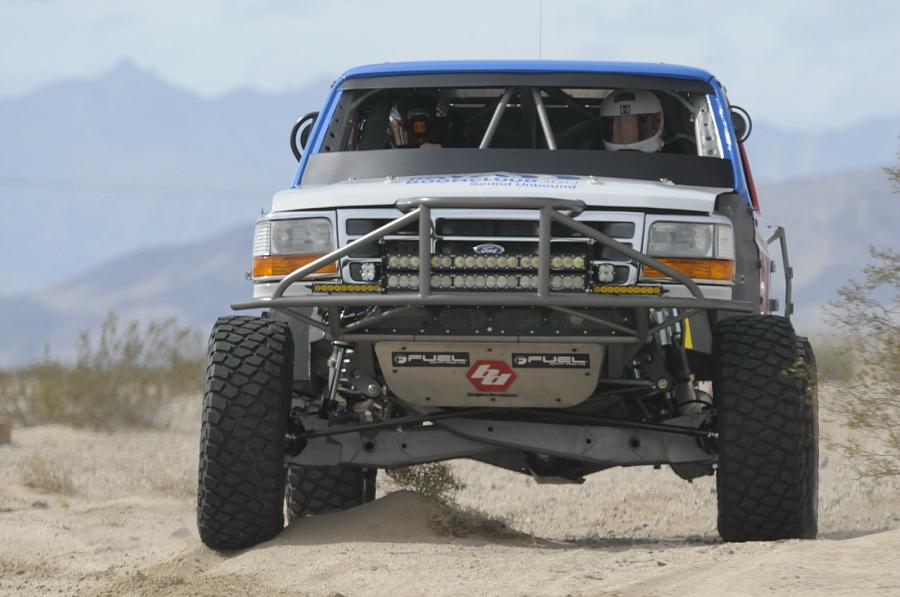 More Photos:
Check out these before and after, as well as action photos! Click the images to enlarge – click the arrows to load more.