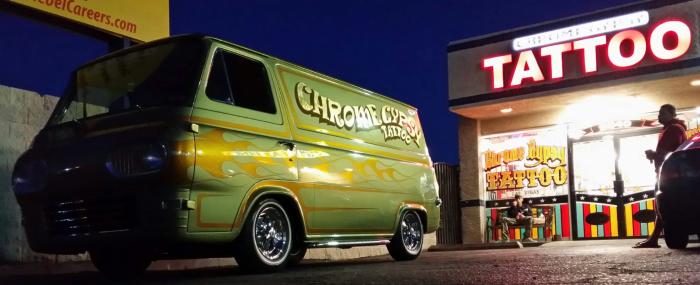 This beautiful Ford Econoline van is owned by Cleen Rock One of Las Vegas Nevada. He is also the owner of Chrome Gypsy Tattoo in Las Vegas.
Photos can't show the amazing metal flake that's in the paint job. The green paint is accented by copper and gold metal flake stripes and flames on the side, along with gold leaf lettering. Some of the most amazing paint details are actually the stripes and designs on the roof. It's a shame that most people will never get to see them.
Even the custom interior is detailed with metal flake paint.
This van is old school down to the classic Cragar chrome mag wheels and white wall tires.
We haven't had a chance to see inside of the back, or to see the motor. Feel free to contact us if you have any photos.
Congratulations to Cleen Rock One on building such an amazing old school custom van.
The photos below are from the 2013 SEMA show in Las Vegas: