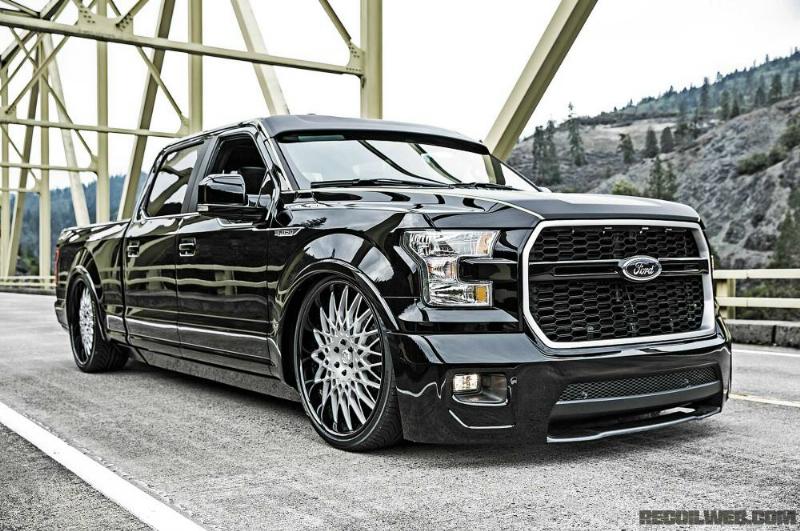 Photos by Sheri Johnson / EraThr3
In this column you're typically used to seeing a helping of tactical vehicles, mainly done as one-offs by gun enthusiasts looking to make their rig more … shall we say … practical for this lifestyle of ours. But what if a gun company churned out a truck that was as much about performance and perfection as their line of firearms were? Those of you familiar with the EraThr3 name know them as a purveyor of boutique guns and goods that's all about precision and letting freedom ring. Did you know they build vehicles too?
Their latest unveiling at SEMA 2016 was another extension of their engineering expertise on four wheels. The idea for this truck began with Jason Hulst, cofounder and designer of EraThr3 and proprietor of Hulst Customs. He and his crew batted some concepts back and forth and decided to do an EraThr3-themed truck that was all about horsepower, performance, and a low-slung stance. Next stop? Submitting the idea to Ford's Vehicle Image Program.
The program basically consists of design proposals for Ford to select from and decide who has what it takes to build custom vehicles with the Blue Oval moniker on it. As a graduate of the ArtCenter [sic] College of Design in Pasadena, California, Jason has been participating in the program since '03, so it's safe to say Ford has faith in his ability to showcase their products.
The platform is a '16 F-150 XLT 5.0 2×4, and there's plenty on this truck that's hidden in plain sight. The front bumper was lowered 2.5 inches from the original locale and they clayed up a front bumper cover and shaped it to how they wanted it, then laid out the fiberglass parts to be installed. Heat extractors were added to the hood, which was also given a Wrap It Up vinyl wrap treatment. The visor was dropped, and a new rear bumper was sculpted as well.
Lower side rockers were made from steel and added to hide any low-hanging rails under the truck. The front end was radically modified with a big-mouth grille shaped from foam and molded into glass as well. Door handles were tucked in 3/4 inch, the keypad on the pillar moved into rearview mirror, one-off fender badges created, and the beltline below the windows was given aluminum trim that was all hand-shaped and polished. Shod in Southern Polyurethanes black, you could practically use the reflection to watch yourself shave.
The truck's low stance was accomplished via some one-off suspension accouterments. Up front, the shock towers were modified with an air spring in place and the shock was relocated outside the control arms. Upper control arms were moved about 3 inches to keep the camber straight when it was laid out on the ground. In the rear, a scratch-built four-link was made. On top of the rearend they did a couple links to a custom cradle so you have uninhibited movement for the adjustable suspension using VIAIR components.
Powering this beast is the standard 5.0L V-8, hopped up with a Whipple Supercharger. A CGS Performance cat-back exhaust system plumbs fumes around the spare tire and goes through the rear bumper with custom exhaust tips. The inside of the bed was adorned in leather that's a nice complement to the factory lighting and tie-downs. The crew radiused the aluminum edges on all the raised surfaces of the bed as well. It's all sitting on Lexani Forged Monza wheels wrapped in Lexani LX Thirty rubber.
The interior of the truck was given the Katzkin diamond-pleated leather treatment using their Zkintech series seats. Custom plastic adornments in platinum silver were also added throughout the truck. You'll find a Console Vault gun safe in the center console along with EraThr3 dice as switches for the Aire Jax manual valves to operate the ride height. A Kicker integrated subwoofer keeps the tunes loud and clear.
Under the Striker Trucks part of the business, Hulst Customs designs, prototypes, and manufactures vehicle parts on the cars they display at SEMA, and this truck was no different. If you like what you see on this truck, hit up EraThr3 to see if the part is available for you to add to your own F-150. Although Jason would like to add more touches, such as a bed lid and custom gun racks, what they've produced in a truncated time frame is nothing short of mind-boggling. We look forward to seeing more of what they come up with.
EraThr3 F-150
Make – Ford
Year – 2016
Engine – 5L V-8 w/Whipple Supercharger
Drivetrain – six-speed manual
Paint – Southern Polyurethane Show-finish black www.southernpolyurethanes.com
Tires – Lexani LX Thirty: 295/30-26, front; 305/30-26, rear www.lexani.com
Wheels – Lexani Monza 26-inch www.lexani.com
Air-Ride Suspension – Hulst Customs www.strikertrucks.com
Front Bumper/Grille – Hulst Customs Custom Made www.hulstcustoms.com
Supercharger – Whipple Superchargers www.whipplesuperchargers.com
Safe – Console Vault F150 Under Front Middle Seat www.consolevault.com
Interior – Zkintech Seats www.katzkin.com
Exhaust System – CGS Performance Cat-back Exhaust www.cgsmotorsports.com
Rifles – (Right and far left) Custom Remington 700 AX chassis; 20-inch Creedmoor builds. (Center) Operation Klepto
Links:
Resource: http://www.recoilweb.com/
Read more: http://www.recoilweb.com/erathr3-2016-ford-f-150-oregon-trail-125002.html#ixzz4YdyP0Sxu
Photos (click to enlarge):
Tags: EraThr3 750 HP F-150