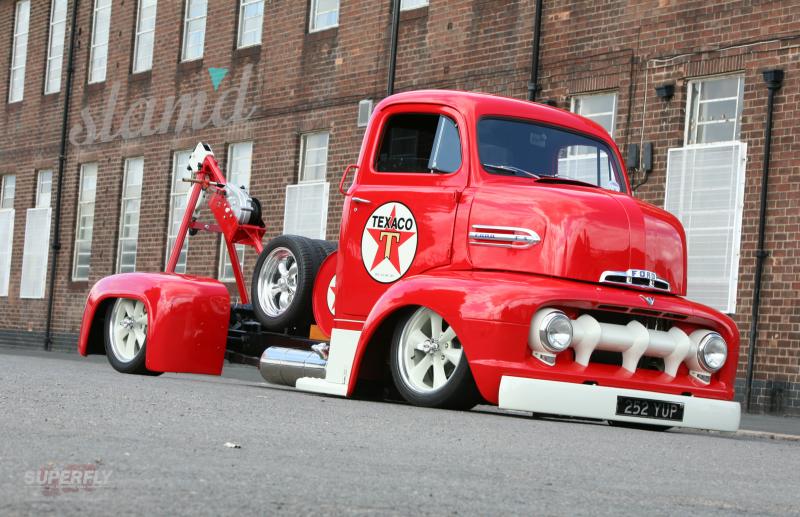 This 1951 Ford COE is owned by Steve Taylor over in the UK. Steve has been building custom cars for years, and eventually opened up his own shop as a premier custom builder. Steve always wanted to build a one-of-a-kind tow rig, so when he came across this Ford COE, the visions began to occupy his every thought.
Shortly after purchasing the Ford, the game plan was a complete rebuild with intentions of slamming it flat to the ground. "When I bought the ford there was quite a bit done to it already, but it desperately needed some major detail and character. I've seen lots of finished COEs but they tend to be haulers in the states, and I wanted a completely different look this time around so we went with the Texaco theme wrecker. Later on I might turn her into a functional hauler for the shop, but for now I'm pretty happy with the way she turned out."
Some of the major modifications included swapping the chassis over to a 1996 Chevy Silverado with a newer 2005 Chevy 1500 rearend. It would have been better if he would have stayed true with a ford frame and one-ton rear, but at least he kept the original 239 flathead that has been rebuilt and "livened up" a bit. The flathead is coupled to a T5 5-speed TVR trans.
Custom additions include adding the power steering, ididit steering column, Wilwood disc brakes, VIAIR Compressor and gauges with Firestone heavy-duty bags, No Limit Engineering one-off front clip and No Limit rear trailing arms.
For the perfect stance Steve chose a set of 20-inch Torque Thrust wheels painted creme with Corvette spinners paying homage to the heritage.
For the long hauls a pair of stainless steel 10-gallon gas tanks house the fuel, and Steve says the COE is capable of a respectable 17-19 MPG, which is nice since "petrol" is around $9/gallon in the UK.
Photos:
Tags: Ford COE Low Tow