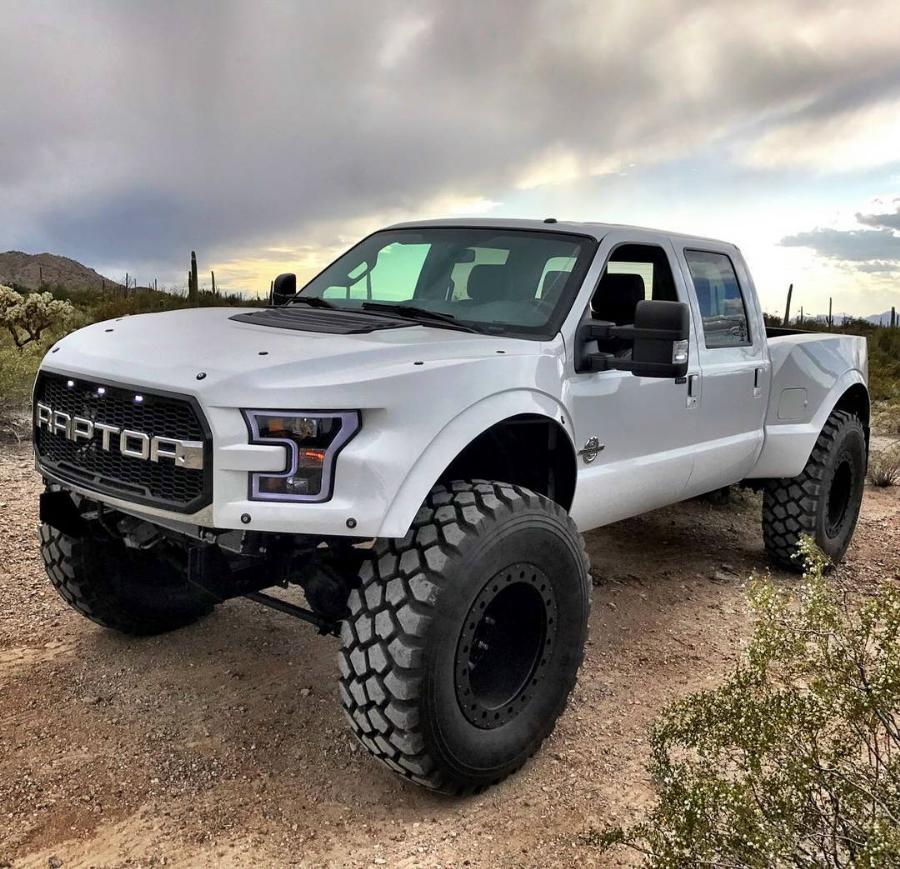 The MegaRaptor on 46-inch military's
When Ford introduced the F-150 Raptor, the off-road crowd fell in love. It was a vehicle that you could take straight from the dealership to the trail.
But for some, bigger is better. Who wouldn't want a bigger, badder Raptor?
That's where F250R.com comes in. Jeremy Dixon and his crew will take your 2008-2016 Ford F-250 or F-350 Super Duty, and convert it to either a SuperRaptor, or the MegaRaptor. While the F-150 Raptor puts out 450 hp and 510 lb.-ft. of torque, the Ford Super Duty 6.7-liter PowerStroke V8 turbodiesel puts out 440 hp and 860 lb.-ft. of torque. But these trucks also receive a new cold air intake, exhaust, and tuner that puts the power output much higher. Add to that the benefits of the Super Duty's solid front axle and amazing towing capacity. This is a truck that could do it all. Why play around with a Raptor that has 35-inch tires, when you could enjoy a SuperRaptor with 40-inch tires, or a MegaRaptor with 46-inch military's!
These trucks come with a suspension upgrade that raises it 4-inches, and pushes the front axle 1.5-inches forward. The whole front clip is replaced with a new one made of fiberglass. The bedsides are replaced with fiberglass as well. These new body panels have wheel openings designed to clear the 40 or 46 inch tires, depending on which kit you purchase.
There's much more to these conversions than we've mentioned. Click HERE to read more about them.
F250R.com doesn't sell any of the components individually. You have to buy the complete kit and have them install it on your truck. If you don't already have a Super Duty, they will locate one for you.
These conversions run $26,000 – $30,000. That may seem like a lot, but if you're hauling your off-road truck to the trails with a tow vehicle, imagine the savings of having one truck that can do it all. Chances are, you probably have $26,000+ invested in that trail rig that you're only driving on the occasional weekends.
The SuperRaptor on 40-inch tires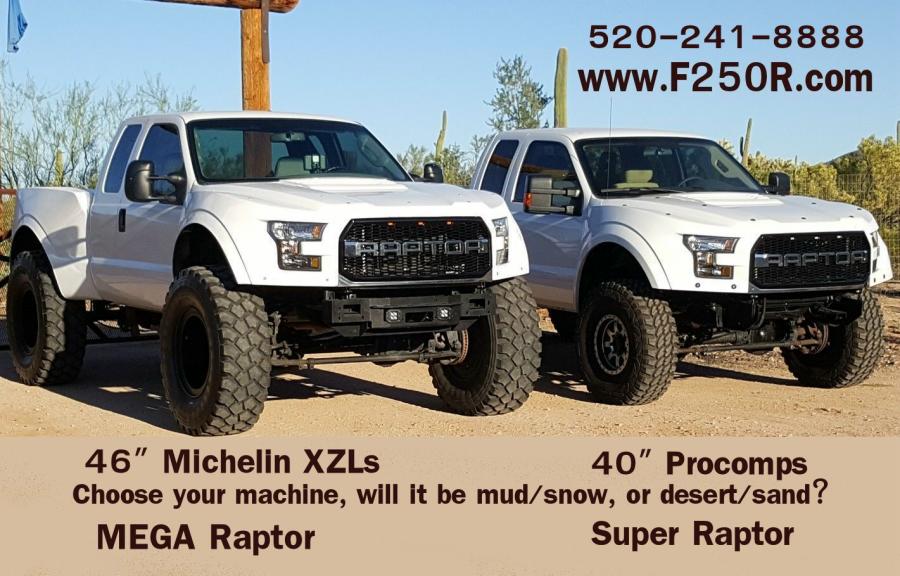 Links:
Videos: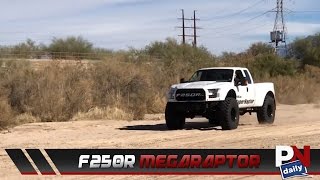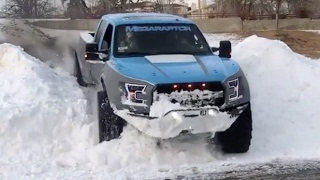 More Photos:
Click the photos to enlarge – click the arrows to load more.
Tags: Ford MegaRaptor