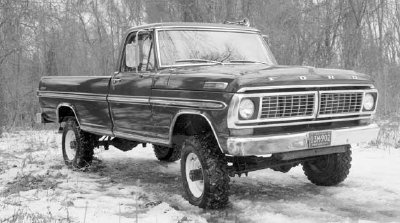 The term 'Highboy' has been used to refer to 1967-1977.5 Ford F-250's, although 'Highboy' wasn't actually a Ford term.
The term 'Highboy' was more of a nickname that came about when Ford switched to a negative arch leaf spring for the 1977.5 model, making it 4-inches lower than the 1977 model.
For a Ford truck to be considered a 'Highboy', it should meet the following criteria:
- 1967-1977.5 Ford F-250 4x4
- Divorced Transfer Case (Not attached to the transmission)
- A Highboy will have (3) driveshafts
- The front spring pack will have a noticeable arch (1977.5 and later are flat)
- Rear springs are 2-1/4" wide. 1977.5 and later non-Highboy's will have 3-inch wide rear leafs.
Front axle choices in the Highboy were either the 8-lug Dana 44 or the low pinion Dana 60.
Engine choices were either the 6-cylinder or 360 2 bbl V-8. Steering was either manual or power ram assist.
F-150's built during that time are NOT considered a 'Highboy'. The F-250's built from 1977.5 and later are referred to as a 'Lowboy' because they sit lower than the 1977.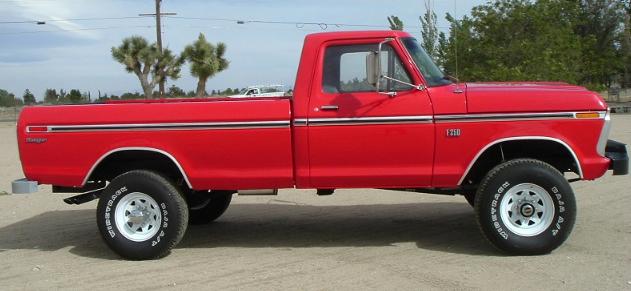 HELP WANTED: Want to contribute your articles/photos to this site? Click HERE.
© 2010 Blue Oval Trucks - 959 Media LLC - All Rights Reserved
'Blue Oval Trucks' and its logo are Service Marks of Blue Oval Trucks and are owned by James Oaks Enterprises LLC.
'Blue Oval Trucks' is an enthusiast site and is in no way affiliated with the Ford Motor Company