1993-1995 (Generation I)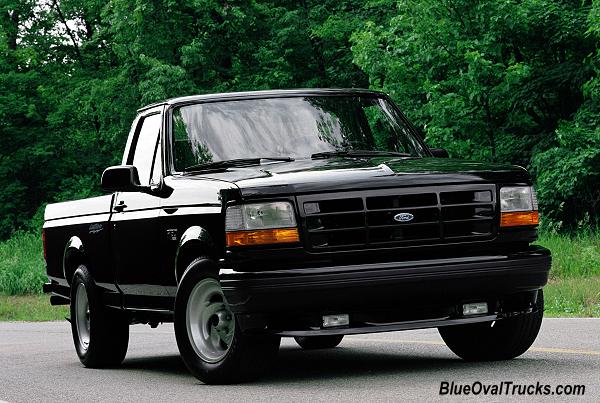 The Ford Special Vehicle Team (SVT) was conceived in 1991, when Ford senior management recognized the corporate advantages of investigating niche vehicle market opportunities. The idea was to assemble passionate driving enthusiasts within Ford and some of its key suppliers into a small, cross-functional group of engineers, product planners and marketing professionals with a common mission: create vehicles to satisfy the desires of knowledgeable, high-performance auto enthusiasts.
SVT was charged to develop and market factory high-performance "halo" vehicles that would add luster to the company's lineup – or "Polish the Ford Oval." To that end, the team focused on creating limited-production cars and trucks with balanced performance attributes -- vehicles that stop as well as they accelerate, ride as well as they handle and, above all, are fun to drive. All vehicles that wear the SVT badge are designed and developed with four hallmarks in mind: Performance, Substance, Exclusivity and Value.
The official launch of SVT came during the 1992 Chicago Auto Show with the unveiling of the 1993 SVT Mustang Cobra and SVT F-150 Lightning. Both went on sale in February of '93. The Lightning was originally offered in black or red. White was added for 1994 and 1995.
There were a total of 11,563 Lightning's produced from 1993-1995. The truck was only offered as a standard cab short bed.
The first generation Lightning's used and existing 351cid Windsor engine, but Ford engineers fitted it with high flow rate GT40 heads and used hypereutectic pistons to increase response, output and durability.
An upgraded Ford E40D automatic transmission equipped with an aluminum driveshaft was standard and the only available transmission. 4.10:1 ratio rear gears, special 17" aluminum wheels with Firestone Firehawk tires, unique Lightning badging, a custom front air dam with integrated fog lights, a 120 mph speedometer and unique under hood treatments including a special "Lightning" intake manifold casting all differentiated the Lightning from normal F-150s. Bucket seats with electrically-adjustable side bolsters and lumbar supports were part of the package. Suspension modifications made the truck stiffer and more responsive, and provided a 1 in front and 2.5 in rear drop in ride height, lowering the vehicle's center of gravity and improving handling.
The 1993 Lightning had an incredible 23 product "firsts" or pilot applications, including the first true dual exhaust on an F-Series, the first bucket seats in an F-Series, the first 17" wheels and tires, and the first use of synthetic lubricant in Ford truck rear axles. These trucks were manufactured at Ford's Michigan Truck Facility in Wayne, Michigan.
Year
Engine
Power
Torque
Black Trucks
Red Trucks
White Trucks
Total Production
1993

5.8 L Windsor FI V8

240 hp
340 ft·lbf
2,691
2,585
N/A
5,276
1994
1,382
1,165
1,460
4,007
1995
824
695
761
2,280
Total:
11,563
1999-2004 (Generation II)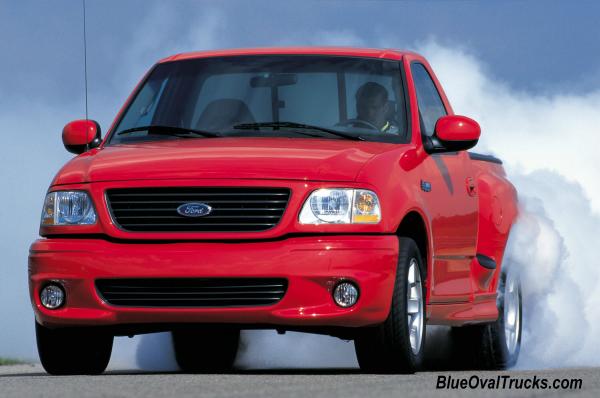 (2001 Ford F-150 Lightning)
For 2001, the truck receive several upgrades. The air intake manifold offers improved airflow, to yield 20 additional horsepower to reach 380hp. Torque also improves to 450 ft-lbs. Resulting 0-60 times have dropped to 5.8 seconds. The truck features an aluminum driveshaft, and a 3.73:1 rear axle ratio. Mono-tube Bilstein shocks improve handling, while the passenger side shock is repositioned in front of the axle to reduce axle-wrap.
Goodyear stepped up with unique Eagle F1-GS tires with a new rubber compound. The wheels are also new. Unique headlamps, corner lamps, fog lamps and tail lamps with a modern clear front lens have been introduced. The roof-mounted third brake lamp is now illuminated by a sindle row of LED. Upper and lower grill inserts get a new design.
The upgraded Lightning reflected the high-mark for Lightning production. Subsequent years retained many of the same features while demand lacked until it was dropped in 2004.
Ford re-introduced the Lightning in 1999 based on the 1997 body style. The new truck features a 5.4L Triton V8 with an Eaton supercharger and produced 360 horsepower and 440 ft·lb of torque. The engine was backed by a 4R100 automatic transmission that sent power to the 3.55 gears in the rear end. The Lightning featured specialized 18" wheels mounted with Goodyear Eagle F1 295/45ZR-18 tires. The Lightning's suspension system was one inch lower in the front and two inches lower in the rear than the standard F-150. Monroe shocks were used from 1999-2001 then replaced with Bilstein shocks from 2002-2004.
In the 2001 Model Year, the engine design was slightly altered to produce 380 horsepower @ 4,750 rpm and 450 ft·lb of torque @ 3,250 rpm. The intercooler was redesigned to resolve a leaking problem that was addressed as a recall in earlier models. Another engine revision came in the 2003 Model Year when the lack of sufficient threads for spark plugs, was addressed and fixed, although "piston slap", a mild knocking noise while the engine is cold, was still present. At the other end of the drivetrain, the final drive ratio was shortened to 3.73:1 in 2001. Also, in 2001 the drive shaft was increased in size to a 4.5-inch (110 mm) aluminum unit, from the previous 3.5-inch (89 mm) steel unit. The specially developed 295/45ZR-18 Goodyear Eagle F1-GS unidirectional tires were upgraded utilizing a new generation F1 GS rubber compound, improving the tires' grip. With these engine and drivetrain revisions, Car and Driver magazine drove a lightning from zero to 60 mph in 5.2 seconds.
28,124 Lightning's were produced from 1999 to 2004. The Lightning remained a standard cab and was only offered with a step-side bed. It was initially offered in just Bright Red, Black, and White paint colors. The 2000 Model Year brought the addition of the Silver color to the lineup. In 2002, True Blue, a very dark blue, was offered, but replaced with a lighter Sonic Blue in 2003. The 2003 Model Year also saw the introduction of the Dark Shadow Grey color.
These trucks were manufactured at Ford's Ontario Truck Facility in Oakville, Ontario until its closure.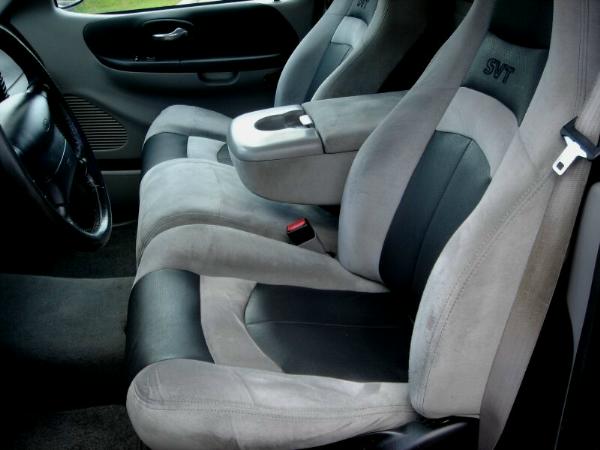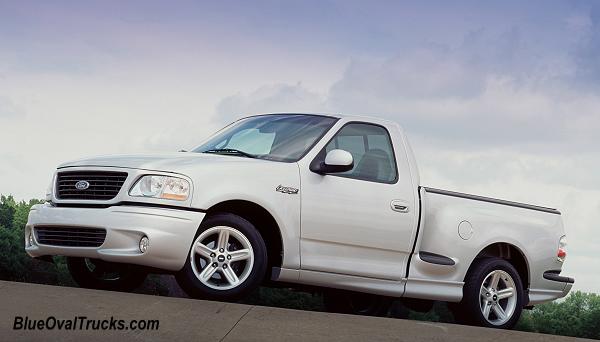 (2004 Ford F-150 Lightning)
Year
Engine
Power
Torque
Production
1999

5.4 L Supercharged Triton V8

360 hp

440 ft·lb

4,000
2000
4,966
2001

380 hp

450 ft·lb

6,381
2002
4,726
2003
4,270
2004
3,781
Total:
28,124
Worlds Fastest Production Pickup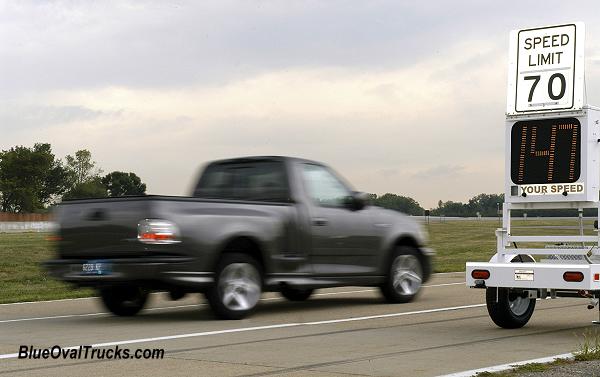 In August 2003, the 2003 SVT Lightning was certified as the Worlds Fastest Production Pickup. Click HERE for more details.
Ford SVT Lightning F-150 Concept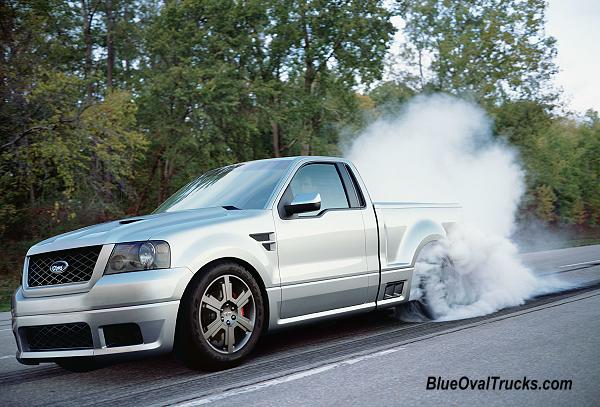 Although the Lightning is currently being produced, Ford hasn't completely forgotten about it.
Ford built a SVT F-150 Lightning concept based on the new 2004 F-150 body style. It made its debute at the 2003 North American International Auto Show in Detroit. For more information, click HERE.
HELP WANTED: Want to contribute your articles/photos to this site? Click HERE.
© 2010 Blue Oval Trucks - 959 Media LLC - All Rights Reserved
'Blue Oval Trucks' and its logo are Service Marks of Blue Oval Trucks and are owned by James Oaks Enterprises LLC.
'Blue Oval Trucks' is an enthusiast site and is in no way affiliated with the Ford Motor Company