Article By: 1badexplorer
This is for internal balanced (pre 1982) 460 motors only.
A lot of this info will also work on a 67-72 body style but I personally have not done a swap on that year truck but I know a lot of the parts will interchange.
Swapping a 460/429 into your 79 and older Ford can be really easy or really hard depending on your parts availability and your specific truck.
Ford only offered 460s in 2wd trucks from 73-79 a 460 never came in a 4wd or in a truck with a 4spd.
The swap can be performed with aftermarket parts or a factory parts depending on what your preference is. A whole swap kit can be ordered online to simply bolt a 460 in however the kit is around $1800.
Some trucks are more difficult than others to swap into. For example, a 2wd is easiest because there are already factory parts and mounts for the direct bolt in. A F150 4x4 or Bronco are second being most of the factory parts off a 2wd will fit right in the ½ ton 4x4 frame. Last a F250 or F350 4x4 is the hardest being the steering box is on the inside of the frame as opposed to the outside like the ½ ton. In addition to the swap you must also consider Air Conditioning if you truck has it. A/C can make the swap even harder.
BELLHOUSING AND FLYWHEEL:
You will need a Transmission or a Bell housing from a 351M or 400. If your truck is auto you will just use a normal C6 trans and converter from the Modified motor and use a stock 460 flex plate. If you have a 4spd, it gets a little harder. You want a cast iron manual linkage style bell housing for a 4spd not an aluminum one. The aluminum bell housings are made for external balanced motors that require a thicker flywheel. If your truck had a 351M or 400 then you already have the correct bell housing. You will need to modify the tin shield. The ID needs to be opened up as show. For a flywheel you will need one from a 360-390 FE Ford motor. But make sure you get the one with the same tooth count as a 460. If you don't your truck will eat 5 starters in a month, I found out the hard way about that. I provided a picture showing the different in the 351M 400 flywheel bolt pattern and the 360-390 flywheels. For a 460 just use a starter for a 351M-400 motor.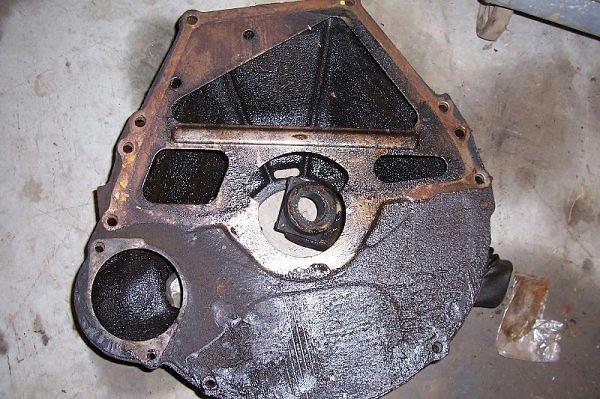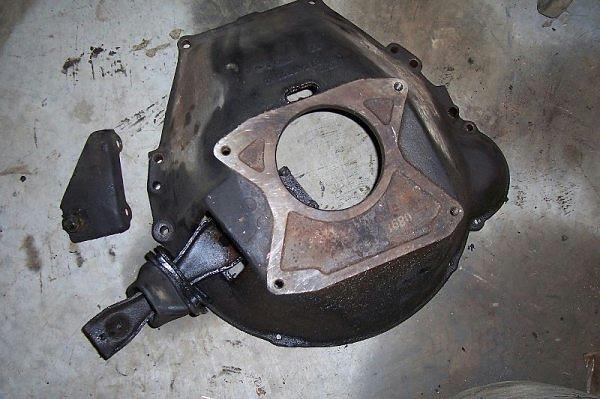 Stock 351M 400 Bellhousing from a 78 F250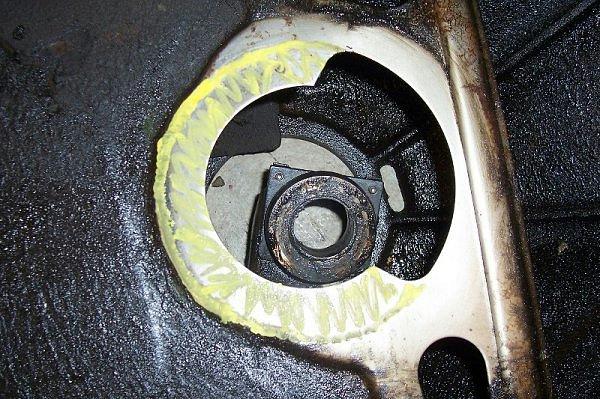 Yellow part needs to be removed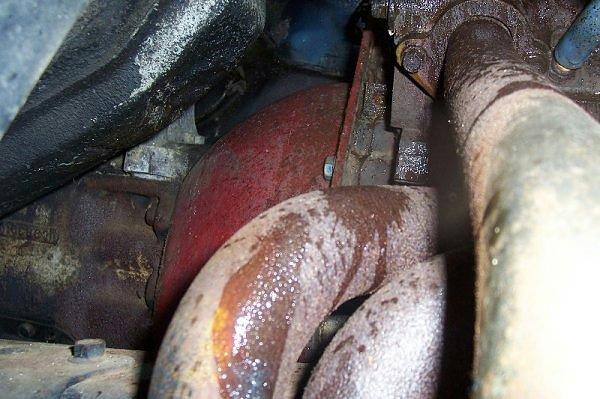 L&L blowproof bellhousing.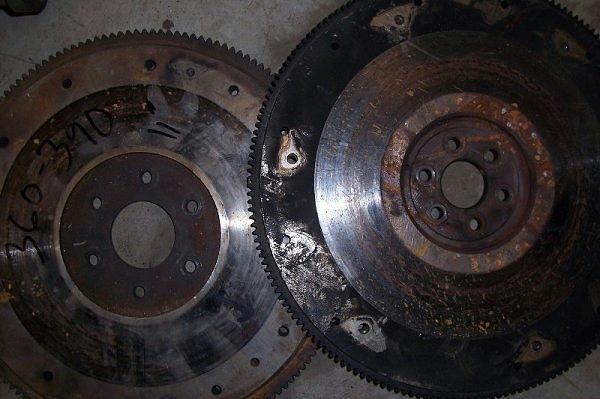 360-390 is on left and 351M-400 on right.
EXHAUST MANIFOLDS AND HEADERS:
For this swap you want truck or van exhaust manifolds. They can come from a Ford Van that had a 460 or a 2wd Ford truck with a 460. They also can come from an 80-up Ford truck that had a 460 motor. If you are using a car motor the driver's side exhaust manifold is the same as a truck the passenger side car manifold does not fit and requires cutting the frame which then leads to a broken frame. Headers for a 2wd can be bought right for that application being it was a factory option. Headers for a 4x4 are "swap" headers which means they are expensive. These headers are available in both fender well exit and chassis exit. One of the most common brands is L&L. An average cost for a set of swap headers is around $600.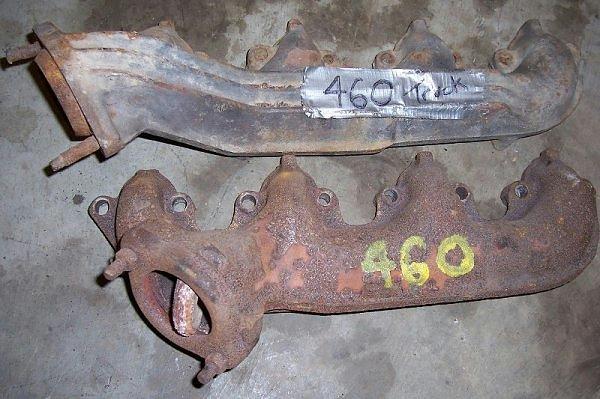 Truck manifold on top, Car manifold on bottom.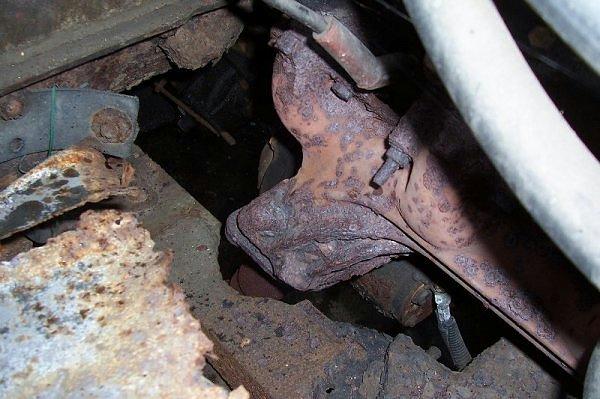 Picture of car manifold in truck see how frame is cut. It was like this when I got the truck I'm glad it's only for parts because frame is already starting to crack.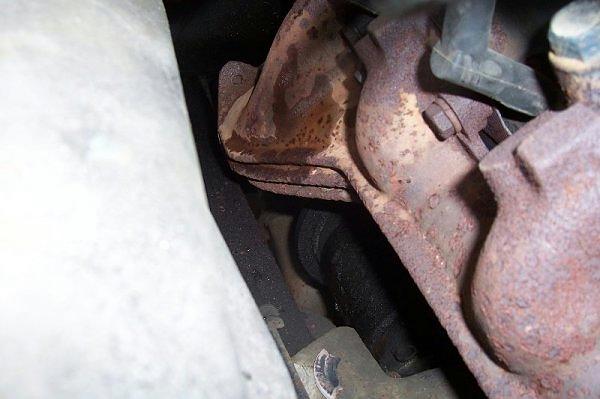 This is a truck manifold in being used in a 79 F250 4x4 notice no cut frame.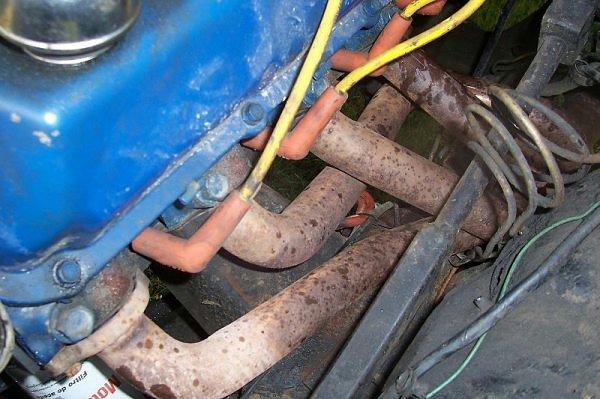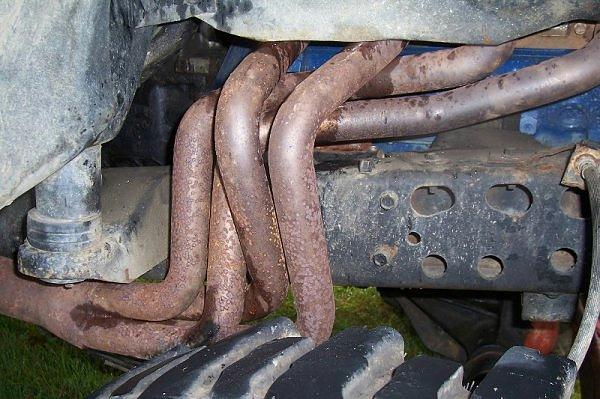 Photos of my L&L fenderwell headers.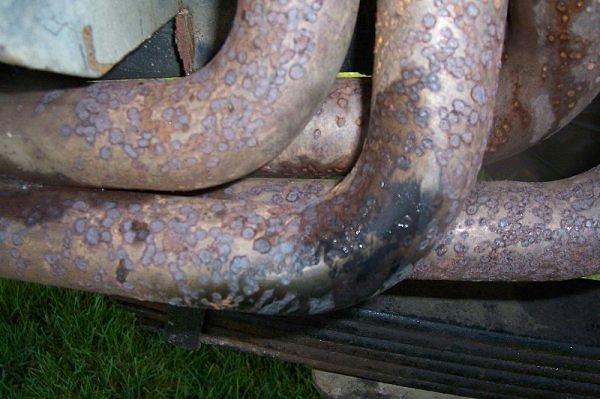 Tires rub when I turn and that's with 10" of lift and a D60 front which is wider than a D44. Keep this in mind before you purchase headers.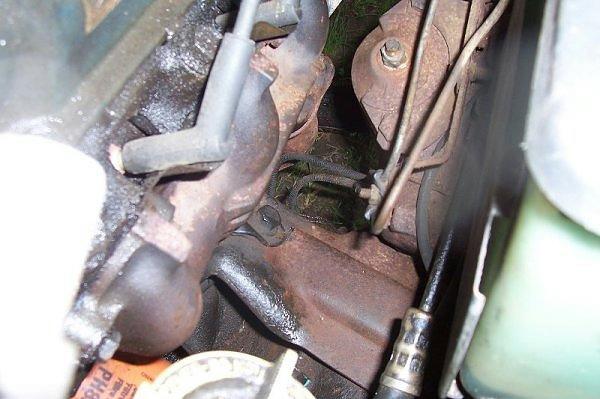 Drivers side manifold pic in a 1978 2wd.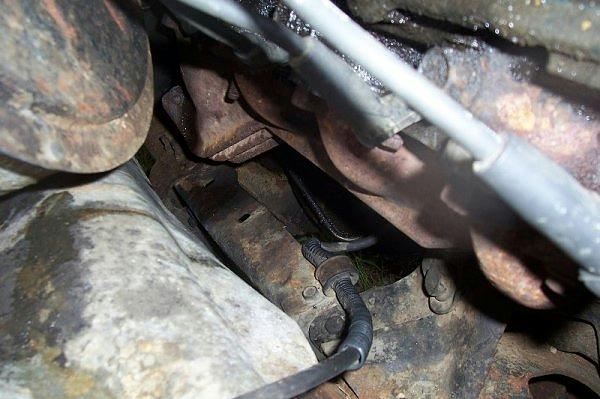 Passenger side in 1978 2wd.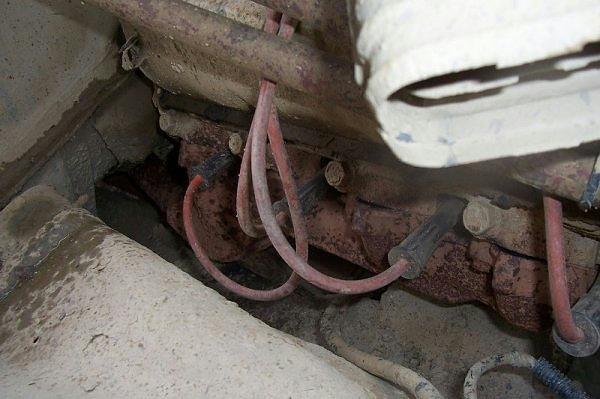 Another pic of truck manifolds in a Bronco.
ACCESSORIES:
If swapping into a 2wd try and find the factory brackets they will make things a lot easier. If you are swapping into a ½ ton 4x4 or Bronco the factory 73-79 2wd will also work as long as you have the standard alternator. Van accessories will also work in a lot of cases but the van brackets are big and bulky. Plus a van does not use the factory truck style power steering pump. Also in a lot of cases you can use the brackets for the accessories from an 80-up Ford truck. You can also buy all of the "swap" brackets online. Last you can also make the brackets; however, keep in mind that if the belts are not aligned properly they will fly off. I have seen many different homemade brackets and some are scary. However if you take some time and do a little fab work you can save a lot of cash here.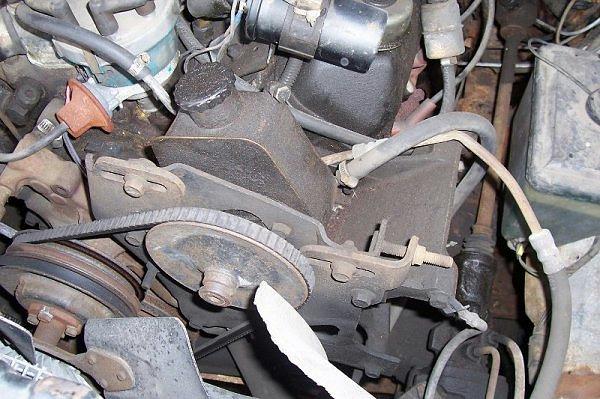 Van power steering pump and bracket. It works but is very ugly looking.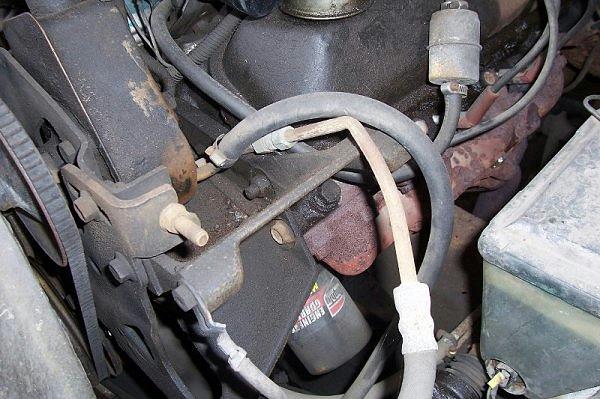 Side shot of same bracket.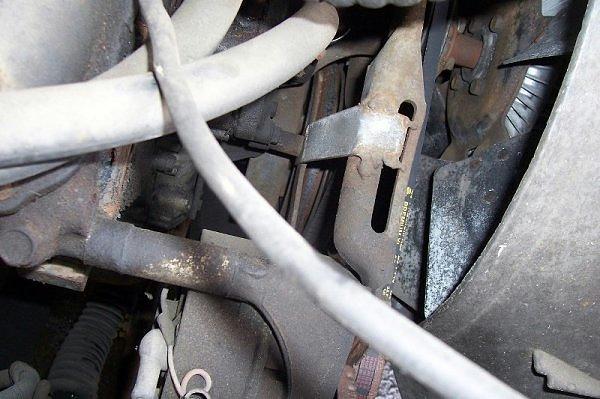 Very ugly looking alt bracket. This was on the same truck with the cut frame.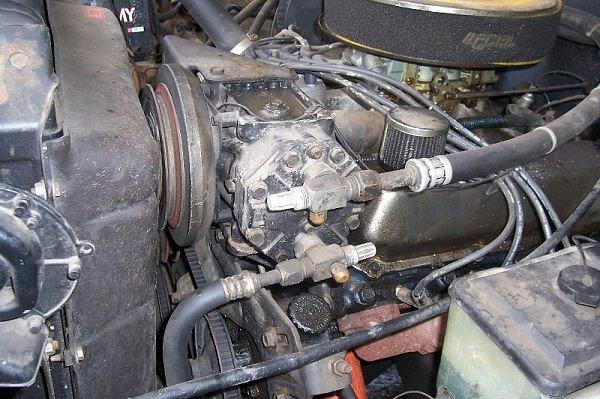 Another van bracket but this truck has the A/C also.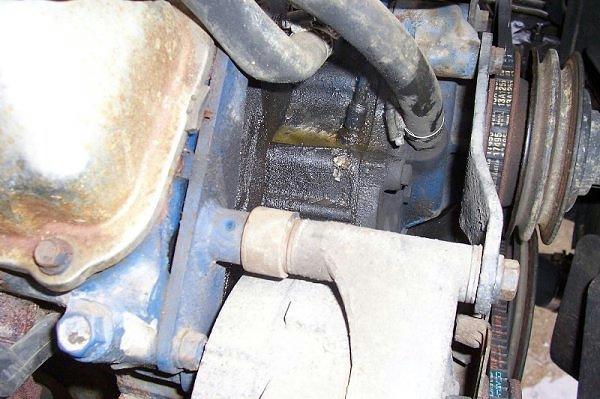 This is the bought L&L alt bracket. This is used for F250/350 4x4s and trucks with the large 130 amp alt. Notice how they have a plate that bolts to the head to make a new location to bolt the alt. You can also make your own.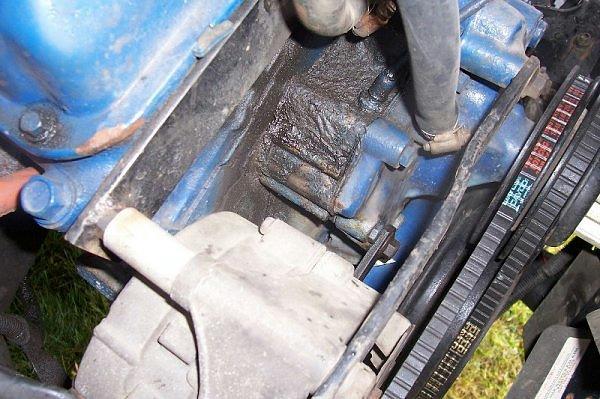 This is the set up I made for my truck because it is a 4x4 F250 and I have the large alternator. I made a plate to relocate the alternator also, but I saved $250.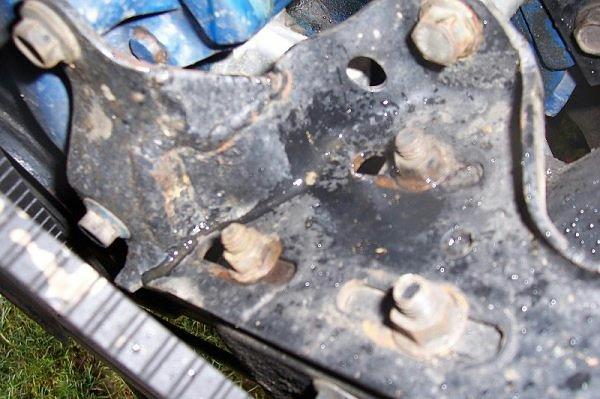 Pic of my power steering bracket. I took a 2wd 78 460 bracket cut it in half and welded it back together.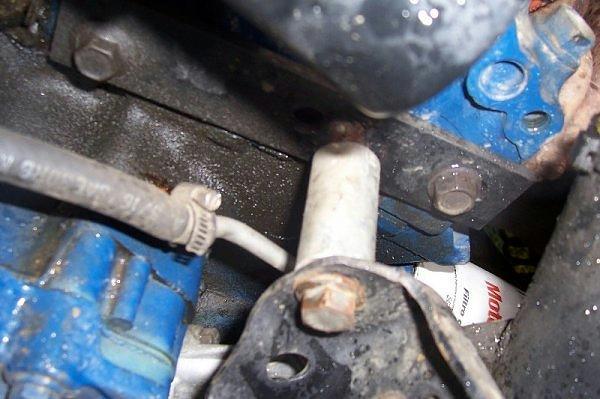 I made another plate for the head on the drivers side to bolt the power steering. Once again, I saved another $250.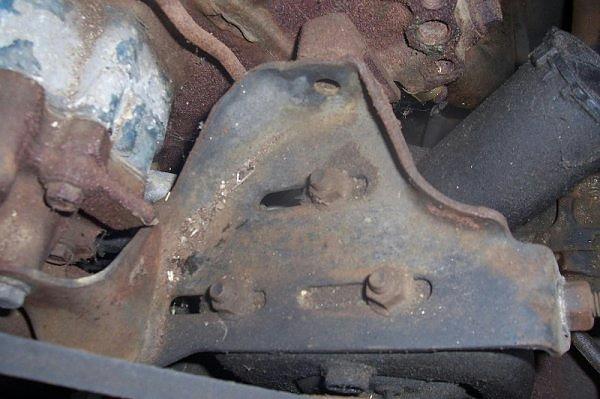 Pic of the bought L&L power steering bracket for a F250.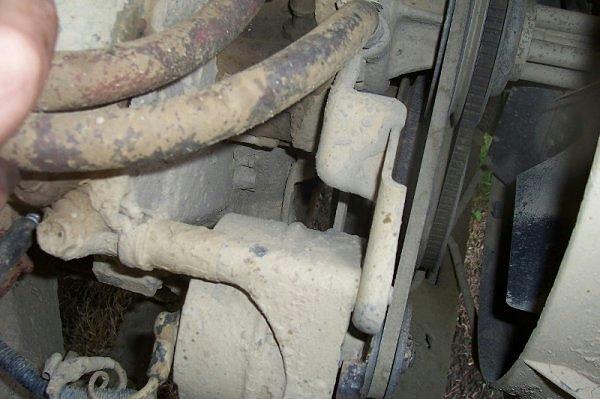 1980-up truck alt bracket with smog pump bracket cut off.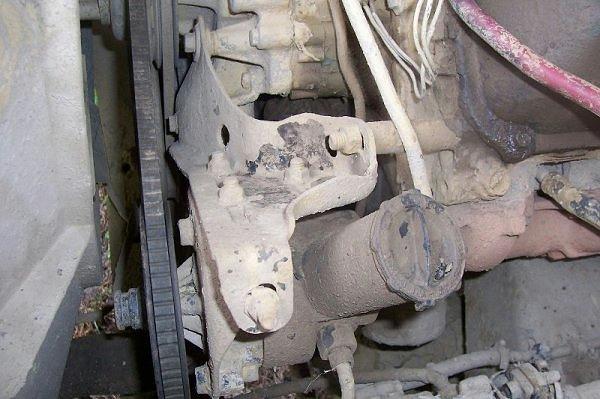 1979 2wd power steering bracket in a 78 Bronco.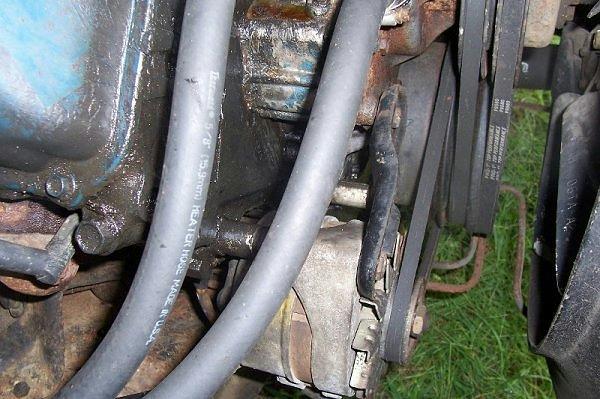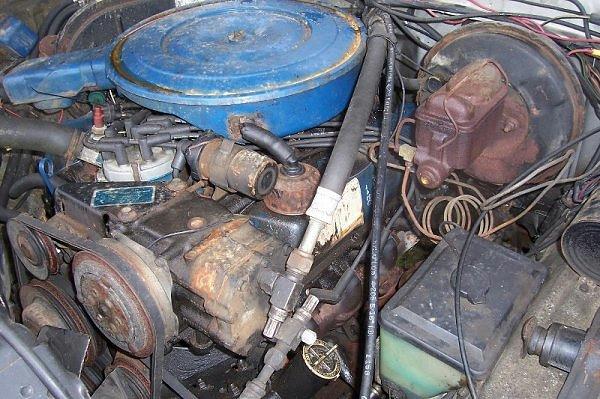 Stock 1978 2wd brackets in a 1978 2wd.
RADIATOR, WIRING, AND OIL PAN:
Wiring is easy you can use you factory truck harness, you may have to lengthen a few spots but the rest is the same. You will want at least the 3core 27" wide medium duty rad for a 460. If you tow or four wheel or even for a show truck that may sit in traffic a lot I would recommend the giant 4core "heavy duty cooling radiator". If your truck is a 2wd you need a front sump car or 2wd truck oil pan. If your truck is 4x4 you need a rear sump pan. This pan comes from any van or 80-up truck with a 460. You must also use the pick tube (make sure you grab the bolt with the stud that holds the pickup tube also this is different from a 400), oil pump and dipstick that matches this pan 2wd or car stuff will not work. If your truck is a F250 and lifted pretty high Then you can get away with using a front sump pan. But not in a 1/2 ton of Bronco it will hit the tracbar!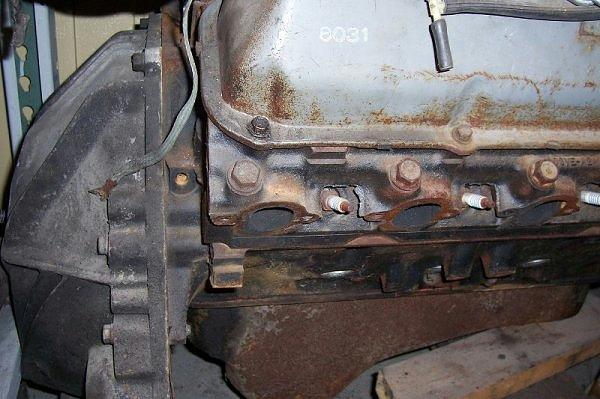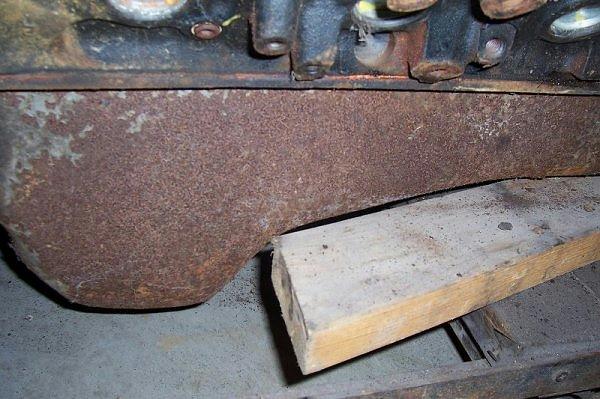 Rear sump pan currently on 1985 truck motor.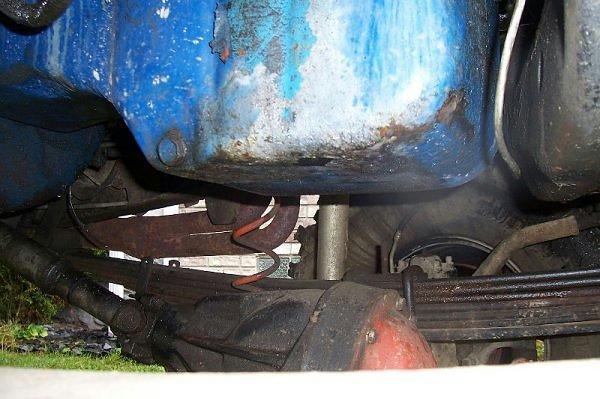 Here is my front sump pan in my F250 Keep in mind I have a 7" suspension lift.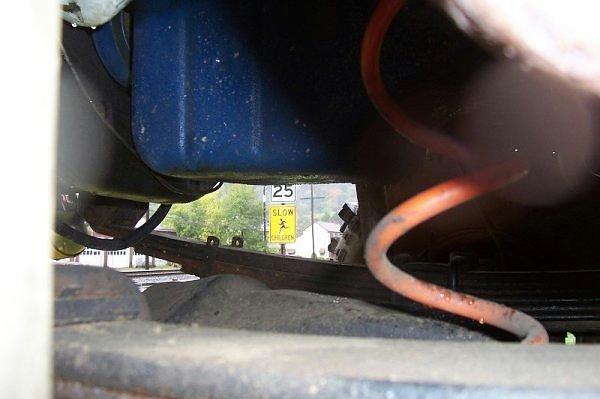 See how close it really is? The only reason I did this is because the front springs hardly flex so it will never get any closer. My dad's F250 however only has a 4" lift and his front sup pan is smashed from hitting the dif. I would recommend a rear in all 4x4s.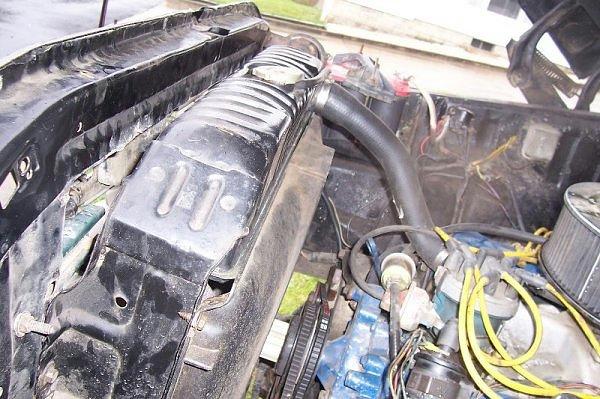 Pic of my "heavy duty cooling" 4 core radiator. This thing is massive. It actually should sit 3" higher but I lowered mine because of a 3" body lift.
MOTOR MOUNTS:
There are few possibilities here also. First if you have a 2wd truck you can buy the correct mounts and frame brackets to bolt it right in. For a 4wd it gets tougher. There are a few companies that offer "swap" mounts once again expensive. I have seen people bolt the 351M mounts to a plate of steel then bolt that to the 460 but this makes the motor sit too high. I have seen various other mounts had had hole slotted and used. But so far the best homemade are mounts from a mid 70s Ford Full-size car. The ears where the through bolt should go were cut off. Then the rivet that went through the middle was drilled out and replaced with a grade 8 ½ bolt that was welded to the steel back of the motor mount creating a stud. These mounts look very similar to factory mounts that would be on a 351M or 400 but they fit the 460 and set right down into the stock motor mount frame pedestals.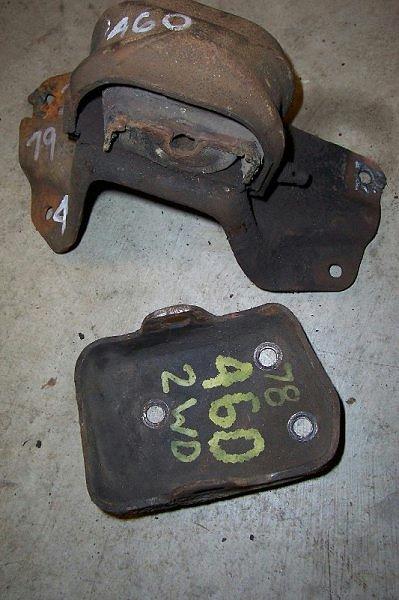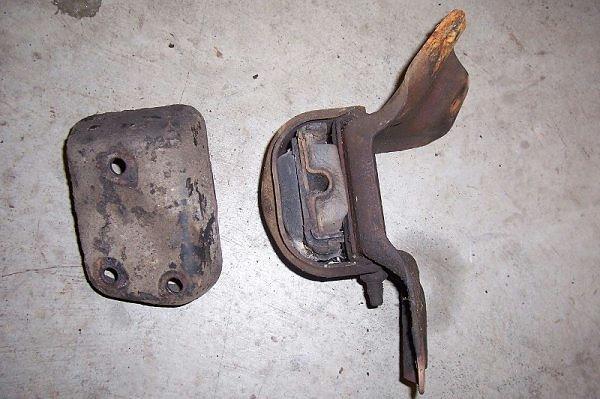 Pic of stock 2wd 73-79 truck motor mounts. This is everything for one side. You will need all 6 pieces total plus some bolts.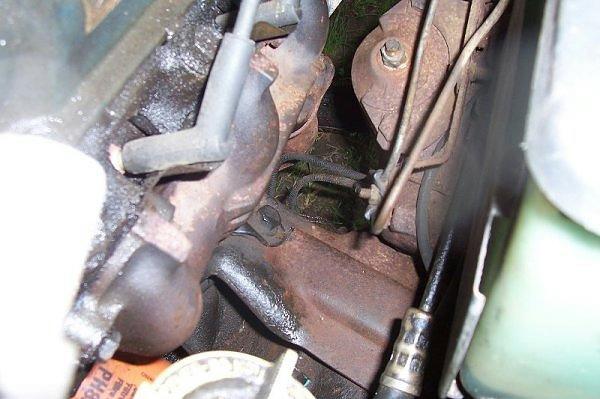 2wd frame brackets and mounts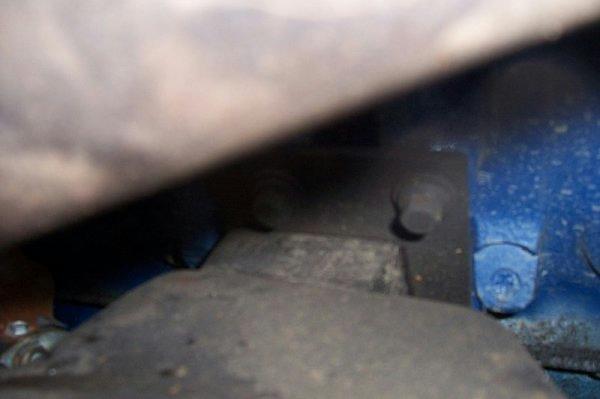 Close up of bought L&L mounts.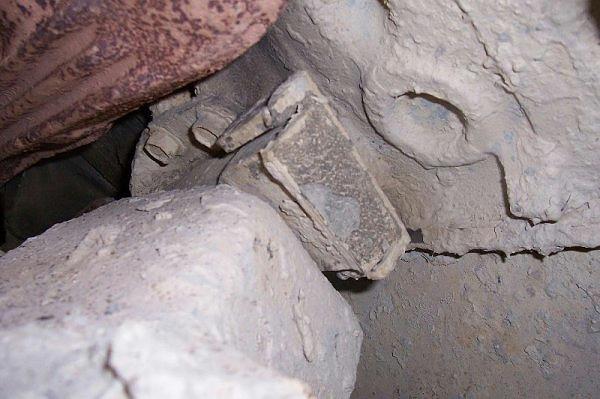 These are the homemade motor mounts using car mounts and drilling out a rivet and welding in a bolt.
I hope that this article helps when it comes time to swap in your big block. Keep in mind that if you don't want to go to the junk yard and search parts and fabricate like I did, you can purchase a complete install kit online. If you chose to buy one from L&L products, you would get the same parts that are in some of these photos of my trucks.
HELP WANTED: Want to contribute your articles/photos to this site? Click HERE.
© 2010 Blue Oval Trucks - 959 Media LLC - All Rights Reserved
'Blue Oval Trucks' and its logo are Service Marks of Blue Oval Trucks and are owned by James Oaks Enterprises LLC.
'Blue Oval Trucks' is an enthusiast site and is in no way affiliated with the Ford Motor Company