Identify Your Ford Truck Axle From The Door Sticker
There's no question, the easiest way to identify the axle and gear ratio in your truck is from the door sticker. If you open the drivers door and look at the door jamb, you'll see a sticker like the one shown below: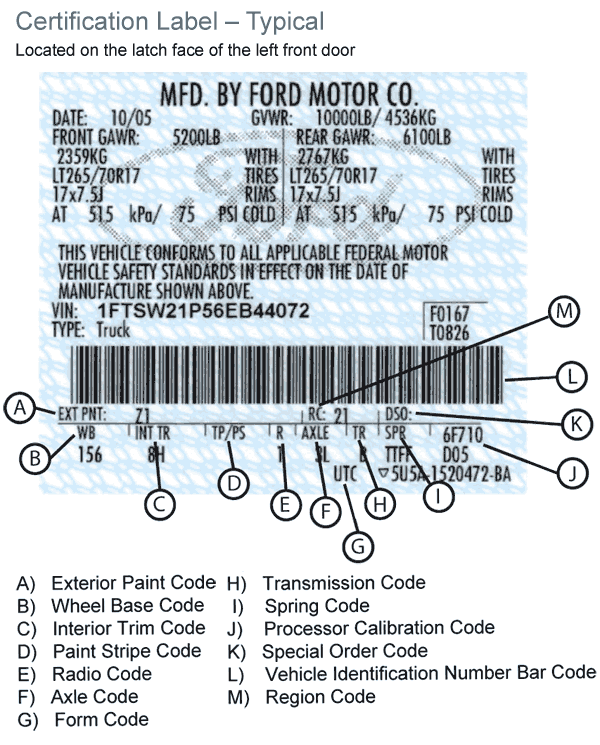 You'll see that the area labeled (F) is for the Axle Code.
Here are some examples of actually stickers: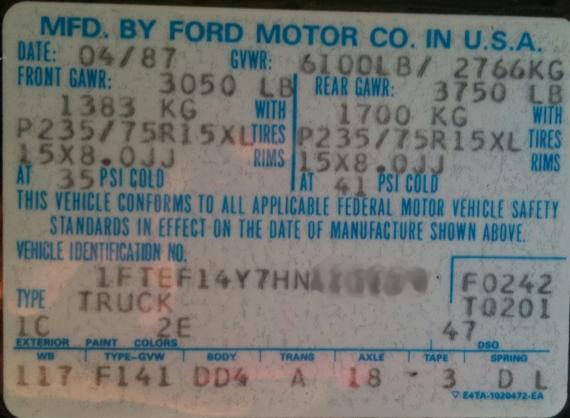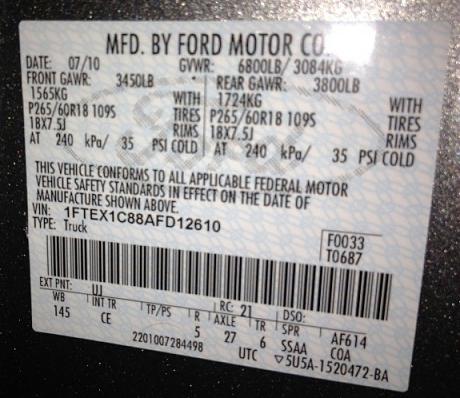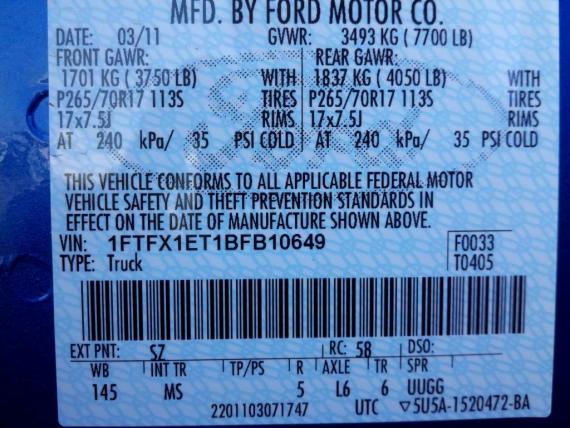 Once you know the door code, go to the chart below to identify it. If for some reason you find a code missing from the chart and would like to add it, please use the Contact Page.
You'll notice that there are some codes with different gear ratio's listed. Unfortunately, the same codes were reused in different years. If you have any more information to help narrow these codes down, please use the Contact Page.
Axle Code
(Door Sticker)

Axle
Capacity
Gear Ratio

Year / Vehicle

01

Ford 9″

2800

2.75

02

Ford 9″

2800

3.00

04

Ford 9″

2800

3.25

07

Ford 9″

2800

2.47

12

Ford

3800

2.73

1991

13

Ford 9″

3750

2.75

1981-1983

13

Ford 8.8

4.11

1985-1986

14

Ford 9″

3750

3.00

1981-1986

15

Ford 9″

3750

3.25

1981-1982

15

Ford

3.31

15

Ford 9″

3750

2.73

1983

16

Ford 9″

3750

3.50

16

Ford

3.73

17

Ford

3300

3.25

1971

17

Ford

3800

3.31

1995 / 1999-2002 / Expedition

17

Ford

3.55

1998

17

Ford

3.73

1997

17

Ford 9″

3750

2.47

18

Ford 8.8

3800

3.08

1983-1986

19

Ford 8.8

3800

3.55

1983-1986 / Expedition

22

Dana

5300

4.10

23

Dana 60

5300

3.54

24

Dana 60

5300

3.73

Econoline

25

Ford

5300

4.10

1991

25

Dana 60

5300

3.33

26

Ford

4050

3.55

26

3.73

F-250

27

3.31

F-250

27

Ford

5300

3.73

27

Dana 70

7400

4.10

28

Dana 70

7400

4.56

29

Ford 10.25″

5300

3.55

1991

31

Dana

6250

3.07

31

3.73

F-250 / Excursion

32

Dana

6250

4.10

Econoline

32

Dana 61

5300

3.00

33

Dana 61

6250

3.54

33

Ford

4.30

F-250

34

3.73

Econoline

35

4.09

Econoline

35

Ford

6250

4.10

1991

36

Dana 70

7400

3.73

1980

36

4.56

F-250

37

Dana 60

5300

3.54

38

Ford

6250

3.08

38

Dana 60

5300

3.73

39

Ford 10.25

6250

3.55

1991 Econoline

41

Dana

6250

3.54

41

3.73

F-350

42

Dana

6250

3.73

42

Dana

7400

4.10

43

Dana

7400

3.54

43

Dana

6250

4.10

43

4.30

F-350

44

Dana

6250

4.56

45

Ford

7400

4.10

1991

46

4.56

F-350

49

Ford 10.25

7400

3.55

1991

51

Dana 70 HD

7400

3.73

52

Dana 70 HD

7400

4.10

Econoline

53

Dana 70 HD

7400

4.56

1982

53

Dana 70 HD

7400

3.54

1983-1986

56

4.10

Econoline

61

3.73

F-350

62

Dana

8100

4.10

63

Dana

8200

3.54

63

4.30

F-350

65

Ford

8250

4.10

1991

66

4.56

F-350

69

Ford 10.25

8250

3.25

69

Ford

8250

3.55

1991

72

Dana

6300

4.10

72

Dana

11000

4.63

73

Dana

6300

3.54

73

Dana

11000

5.13

73

4.30

F-450

75

5.38

F-450

78

4.88

F-450

81

3.73

81

4.63

Econoline

82

4.10

F-350

83

4.30

F-350

86

4.56

F-350

88

4.88

F-350

95

5.38

F-550

98

4.88

F-550

B2

Dana

5300

4.10

B3

Dana

5300

3.54

B4

Dana

5300

3.73

B5

Dana 60 – Limited Slip

5300

3.33

B5

Ford 10.25 – Limited Slip

4.10

B6

Ford – Limited Slip

5300

3.55

B6

Ford – Limited Slip

3.73

B7

Ford – Limited Slip

5300

3.73

B9

Ford 10.25 – Limited Slip

3.55

C1

Ford – Limited Slip

3.73

F-250 / Excursion

C2

Dana 61 – Limited Slip

5300

3.00

C2

Dana 61 – Limited Slip

5300

3.54

C2

Dana – Limited Slip

6250

4.10

F-250 / Excursion

C3

Dana Limited Slip

6250

3.54

C3

Ford – Limited Slip

4.30

F-250 / Excursion

C5

Ford 10.25 – Limited Slip

4.10

C6

Ford – Limited Slip

4.56

F-250

C7

Dana 60 – Limited Slip

5300

3.54

C9

Ford 10.25 – Limited Slip

3.55

D1

Limited Slip

3.73

F-350

D2

Limited Slip

7400

4.10

D3

Ford Limited Slip

3.54

D3

Dana – Limited Slip

6250

4.10

D3

4.30

F-350

D5

Ford 10.25 – Limited Slip

7400

4.10

D6

Limited Slip

4.56

F-350

D7

Dana 70 – Limited Slip

5300

4.10

E1

Ford – Limited Slip

3.73

E2

Dana 70 HD – Limited Slip

7400

4.10

E3

Limited Slip

4.30

F-350

E5

Ford Limited Slip

8200

4.10

E6

Limited Slip

4.56

F-350

EW

Limited Slip

4.88

F-350

F1

Limited Slip

3.73

F-350

F2

Limited Slip

4.10

F-350

F3

Limited Slip

4.30

F-350

F5

Ford 10.25 -Limited Slip

8250

4.10

F6

Limited Slip

4.56

F-350

F9

Ford Limited Slip

8250

3.55

G2

Dana Limited Slip

6300

4.10

G3

Dana Limited Slip

6300

3.54

G3

Limited Slip

4.30

F-450

G5

Limited Slip

5.38

F-450

G8

Limited Slip

4.88

F-450

GW

Limited Slip

4.10

F-450

H3

Ford 9″ Limited Slip

3750

2.75

1981-1982

H3

Ford 8.8 Limited Slip

3800

4.11

1985-1986

H4

Ford 9″ Limited Slip

3750

3.00

1981-1986

H5

Ford 9″ Limited Slip

3750

3.25

1981-1982

H5

Ford Limited Slip

3.31

H5

Ford 9″ Limited Slip

3750

2.73

1983

H5

Ford Limited Slip

3800

4.10

1991

H6

Ford 9″ Limited Slip

3750

3.50

H6

3.73

Expedition

H7

Ford 9″ Limited Slip

3750

2.47

H7

Ford 8.8″ Limited Slip

3800

3.31

1995 / Expedition

H8

Ford 8.8″ Limited Slip

3800

3.08

1983-1986

H9

Ford 8.8″ Limited Slip

3800

3.55

1983-1986 / Expedition

K5

Limited Slip

5.38

F-550

K8

Limited Slip

4.88

F-550

KW

Limited Slip

4.10

F-550

L6

Electric Locker

3.73

2011

W5

Ford – Limited Slip

8250

4.10

1995
Below is a axle code chart from 1977: