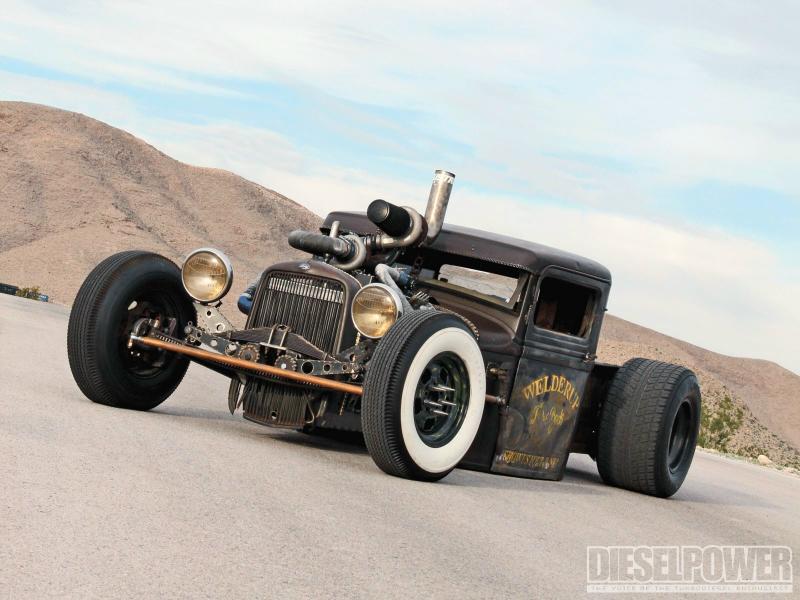 The '32 Model A Truck seen here is the creation of master rat rod builder Steve Darnell (Vegas Rat Rods).
According to Steve, "I built it as part of a promotional deal for Red Rock Harley-Davidson," Steve explains. "I hired some helpers, and we built the entire thing in five weeks, in a tent in front of the shop. We even used tools off of Craigslist!" Steve also reported that a lot of people started following the build and would stop by every day. "That big plumber's wrench I used as my steering arm was a donation from an old, retired dude. As soon as I saw that big, funky thing I knew I had to use it." Steve said that during the weeks he would build the truck, that's all he would think about. "I'd come up with ideas at night, and when I woke up in the morning, I was fired up and had to make my vision come to life. I thought about the truck all the time—when I was driving, eating, on the toilet—everywhere!" Once the truck was completed, it was a riot to drive. "It's only about 2,500 pounds, so it hauls some serious a–," he reports. "That's why it has the toilet seat in it, in case it literally scares the crap out of ya!"
The 3.9L Cummins four-cylinder that powers Steve's rat truck is out of a step van and features a host of mods. A fire-ringed head and camshaft were sourced from Hamilton Cams. Industrial Injection supplied the 5×0.012-inch injectors, a 300cc Dragonfly P-pump, as well as a custom S200/S300 turbo setup using a 56mm high-pressure turbo and 64mm atmospheric turbocharger. ARP head studs keep everything together, and "some import intercooler" keeps the intake charge cooled. Estimated power is 600 hp at full tilt, but Steve reported he's detuned it a bunch, "so I don't die." Given the plumber's wrench steering arm (arrow), we don't disagree with him.
Steve fabricated a set of simple engine mounts using rubber biscuits. The "hammered" look (all the notches in everything) was done by eyeball with a belt sander and covers the entire car.
The chassis was built out of 0.188-wall tubing with rear Firestone airbags incorporated, so he could slam the rat on the ground. The copper four-links are a sucker deal, as they were TIG welded with silicon bronze over steel tubing to create an "unsafe" look. A 9-inch rearend with Moser axles and 3.73 gears transmits power to the ground. Also note the hammered rear crossmember, saddle-mounted fuel tank, and boot air compressor.
An adapter from Destroked mates the Cummins to a Coan TH400 transmission and converter. Despite a lack of lockup, the truck is still plenty fast.
A lightly modded front suspension is mostly stock '32 Ford stuff that has friction shocks added for the weight of the diesel. "We couldn't find any rubber that seemed durable enough," Steve says. "So we cut up a hockey puck and used that." Incredibly, it seemed to work, and the ride could be described as "bearable." With the modified suspension and a 5.5-inch chop on the body, the car sits extremely low.
The front tires are 8.20×15 Firestone Deluxe Champions. The lug nuts are something Steve came up with late at night. "People spend all this money and time on building vehicles, and lug nuts are always just an afterthought. I wanted to make something people would notice." We think he succeeded. The rear tires are Hoosier Pro Street radials in a 29×15.50R15 size mounted on "some wheels I found," according to Steve.
The interior is covered with more than 100 pairs of boot skins from Al's Bootery in Billings, Montana. Other luxury accommodations include a barn wood roof and floorboard, and a toilet seat seat.
A truly unique shifter in Steve's '32 is the barrel end of a double-barreled shotgun, which makes for an uncomfortable situation every time the driver or passenger has to lean over to talk to the other. The interior is rounded out with copper sheeting and a motorcycle-chain steering wheel.
Links:
Check out www.welderup.com
Photos:
(Click photos to enlarge)