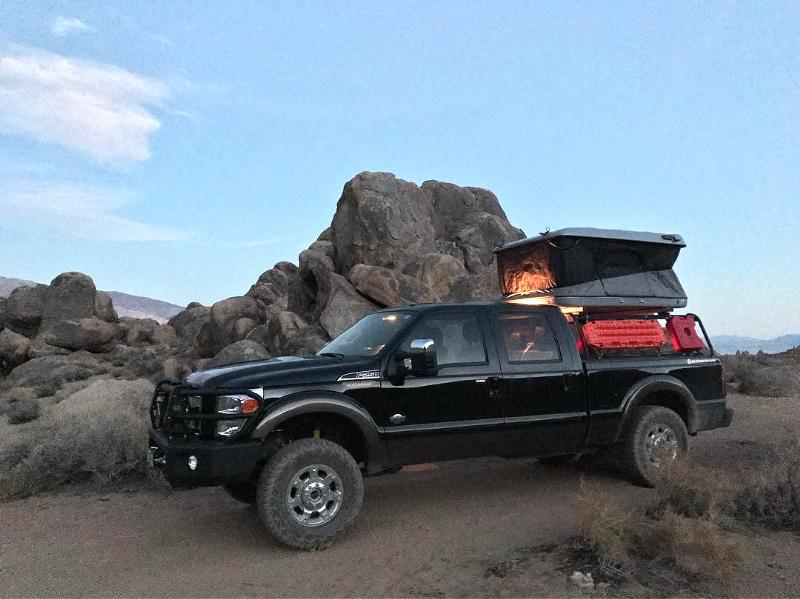 Matthew Scott (@mattexplore) is the owner and builder of this 2016 Ford F-250 King Ranch 4×4. After owning several smaller overland vehicles, Matt realized that most of his adventures were on dirt roads, and not technical off-road trails. Because of this, moving up to the F-250 King Ranch made perfect sense for an overland adventure vehicle. The Super Duty is a capable adventure vehicle, especially with a few well chosen modifications. It's only limited by its size, which is a trade off to its carrying capacity and creature comforts.
The Super Duty was lifted with an Icon Vehicle Dynamics 4.5-Inch Lift System. The dual rate front coil springs combined with the ICON 2.5 Series shocks give these trucks the performance they so desperately need. Matt initially ran 35-inch tires on the stock rims, but eventually moved up to 37-inch Falken Wildpeak MTs on 20-inch Icon alloy Alpha wheels. The 6.7 Power Stroke diesel has no problems turning the wheels and tires.
The front of the truck was upgraded with an ARB modular front bumper with a Warn Zeon 12K winch and ARB Intensity LED lights.
The bed features a Leitner Designs Bed Rack that carries a James Baround Evasion rooftop tent when camping. The tent can be easily removed for hauling motorcycles. The rack also carries a pair of Maxtrax recovery boards and Roto-Pax fuel containers. When camping, the bed also carries storage containers for all of Matt's gear, and an Engel mT45 fridge.
A Rhino Rack Pioneer Platform roof rack is mounted above the cab, and is outfitted with Baja Design Squadron LED lights on the sides, and a 30-inch S8 LED light on the front.
Don't be surprised if you see this truck on the Imogene Pass in Colorado or traveling through the National Parks.
Photos:
Click the photos to enlarge – click the arrows to load more.
Links:
https://www.instagram.com/mattexplore/