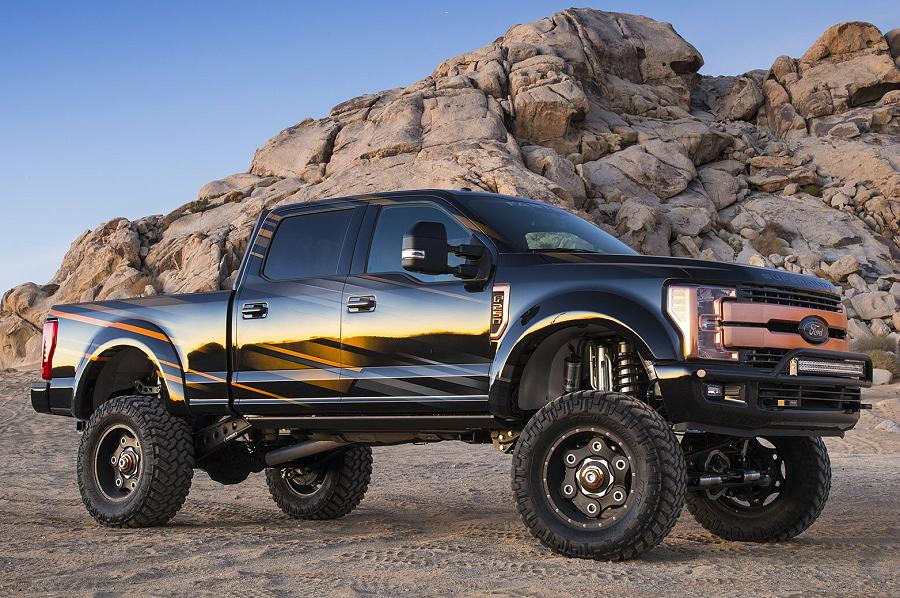 Ford truck enthusiasts having been waiting for the blue oval to release it's latest version of its Super Duty. The new design offers a lightweight aluminum body that sheds hundreds of pounds, along with a stronger frame. The driveline was upgraded to handle the increase in power and torque (over 900 ft-lbs) of the 6.7L Power Stroke.
Fabtech Motorsports was able to get their hands on a preproduction 2017 F-250 to design and test-fit suspension components Fabtech stripped the F-250 and began installing numerous newly designed suspension components and exterior upgrades.
Fabtech began by installing an 8-inch lift with a set of custom Dirt Logic 4.0 coilovers equipped with 4.0 bypass shocks, Dirt Logic dual steering stabilizers, custom billet sway bar arms, and endlinks were teamed up with Speedway torsion sway bars. In the rear, they installed a Fabtech four-link system, a custom rear bed cage holding four Dirt Logic 4.0 bypass shocks, a custom long-travel air bag system, Deaver long travel springs, and a set of custom floating traction bars. Dirt Logic hydraulic bumpstops were installed in place of the stock bumps, with the rears having to fit into a notch in the frame.
Built primarily as a Fabtech promotional vehicle, they still wanted it to maintain it's tow rig abilities, so the frame was strenghtened with steel plates.
The stock 2017 6.7L diesel makes 440 hp and 925 lb-ft torque. Fabtech added an aFe intake system and an in-house custom cat-back exhaust system with square stacks that shoot out the bed and follow the cab lines. The driveline is capped off with a custom heavy-duty front drive shaft, and custom carbon-fiber and steel-ring diff covers front and back.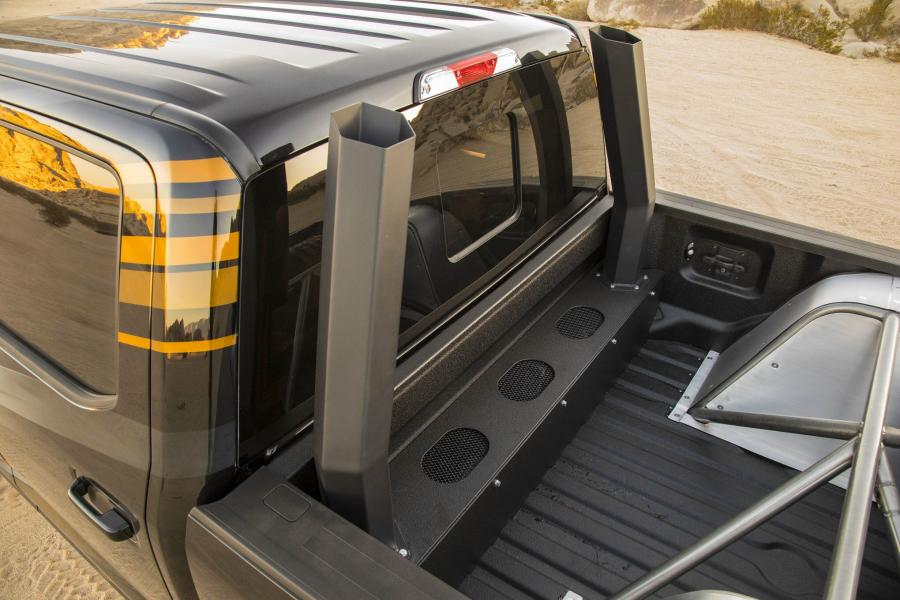 Fabtech made a custom lower billet grille to match the upper grille, and the grille and side emblems were wrapped in Brushed Copper. The headlights were split apart so their reflectors could be painted Candy Copper, then plastic welded back together.
Fabtech built fenderwells out of aluminum front and back. They also tubbed the bed to allow for the tubular shock system, which tied into the bed cage and featured a custom tire mount.
Fabtech made some custom billet tow rings to fit onto their tubular bumper guard, coated in House of Kolor Copper Bronze Satin Candy with all paint, graphics and wrap applied by Haynie Designs in Corona, California.
About the only things Fabtech didn't develop for this truck or custom make themselves was the Bushwacker fender flares, AMP PowerSteps, and Rigid LED bar.
On the inside, Alea leather graces the seats in a black-and-tan color scheme, the dash and door panels were coated Gloss Black with Copper Pearl highlights, and the trim rings were painted with that same Copper Candy. Fabtech also made some custom door sill plates.
The Super Duty rides on 38×15.50R20 Nitto Mud Grapplers mounted to 20×10 Moto Metal Link Wheels.
Specifications:
2017 Ford F-250 Super Duty
Front Suspension:
8-inch lift
custom front Dirt Logic 4.0 coilovers
4.0 bypass shocks
Speedway Torsion sway bars
Fabtech billet sway bar arms and endlinks
Dirt Logic hydraulic bumpstops
Fabtech four-link
Custom rear bed cage with four Dirt Logic 4.0 bypass shocks
Fabtech floating traction bars
Fabtech long-travel airbag System
Deaver long-travel rear leaf springs
Frame:
Rear framerails notched to allow the Dirt Logic bumpstops to be frenched in
Strength plates added
Engine:
6.7L Turbodiesel V-8
aFe intake system
Fabtech cat-back dual exhaust stack system
Carbon-fiber and steel-ring diff covers front and back
Heavy-duty front driveshaft
Body:
Custom billet grille built for the bumper opening to mimic the upper stock grille
Grille and side emblems were wrapped in a Brushed Copper film
Headlight reflectors painted Copper Candy
Custom front Fabtech inner aluminum fenderwell
Tubbed bed for the tubular shock system and built aluminum inner fenderwells
Bushwacker fender flairs front
Fabtech billet tow rings
Fabtech tubular bumper guard covered in a Copper Bronze Satin Candy
Rigid LED lightbar
AMP PowerSteps
Fabtech in-bed spare tire mount
Paint supplied by House of Kolor with paint and graphics applied by Haynie Designs
Interior:
Alea Leather, black-and-tan leather seating surfaces
Dash and door trim parts painted Gloss Black with Copper Pearl
Trim rings painted Copper Candy
Custom Fabtech doorsill plates
Wheels & Tires:
Wheels: 20×10; Moto Metal Link Wheels
Tires: 38×15.50R20; Nitto Mud Grapplers
Photos:
Click the photos to enlarge – click the arrows to load more.